Publication:
18.03.2021
| Update:
18.05.2021
How can I enjoy my work?
Regardless of whether you work at the dining room table, at the desk in the bedroom, or maybe you have a separate office room or even the entire office - I would like to show you that the joy you can derive from your work can be multiplied. Just as?
Although very much herself for a long time I was of the opinion that the mess at work does not bother me, I no longer wanted to stand by the psychological research that proved that the disordered space around you puts a heavy strain on your brain. The mess that surrounds us is so busy with our brain that we are not able to focus well on work or conversation. Disordered environment distracts us, stresses us and causes anxiety so much that it can even affect our ability to make decisions badly! It is interesting and at the same time… disturbing.
It had its premiere in Poland last week book "How to enjoy work?" world-famous experts Marie Kondowhich I know very well in the English audiobook version. I immediately knew it was the perfect time to help us on a large scale not only to "clean up" the space in which we work - in the office and at home, but make it every day it gave us a sense of peace and happiness.
Here and now is all we have. Especially since the national lockdown has just been announced, more people must reorganize their jobs - or this at home, with children at your side, or in a deserted office.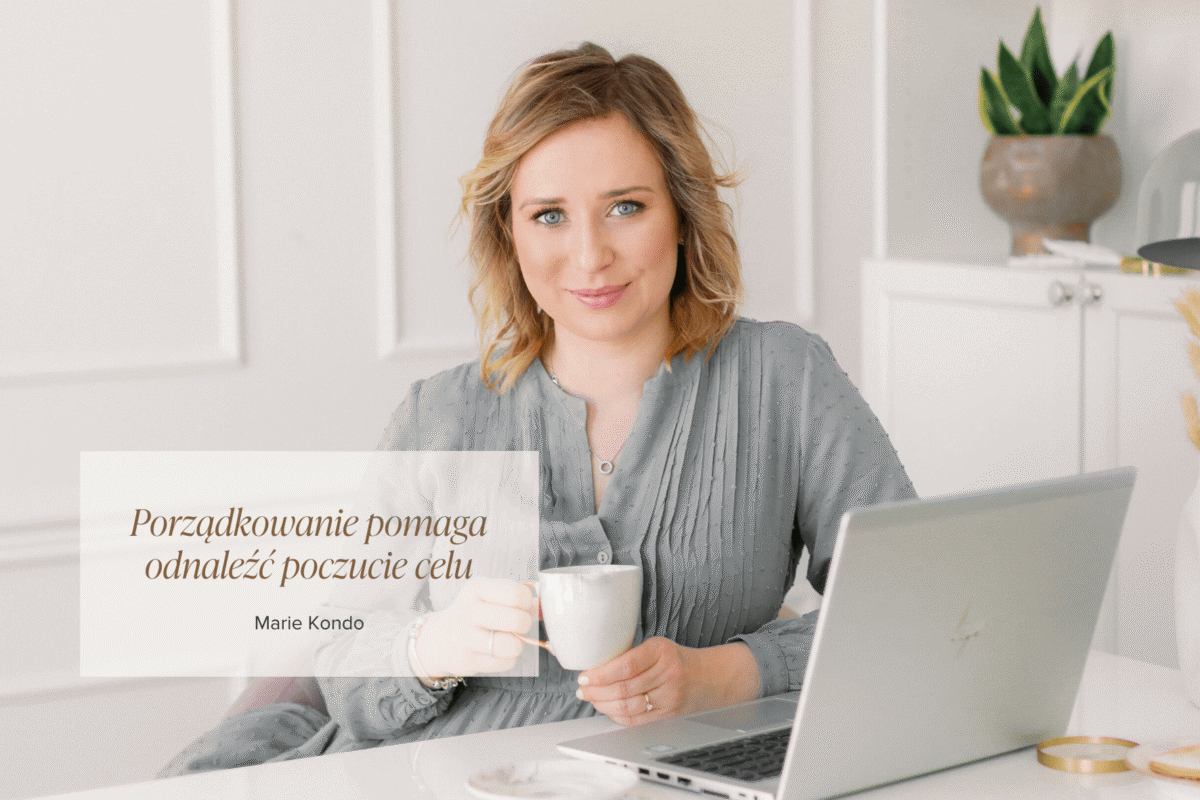 I also decided use your potential 100% and at least try to see if it is better to work in an orderly space all the time.
You think to yourself:
I have already done the general cleaning many times, whether at home or at work, but I always end up with a mess?
Still taking on too many… meetings to be held, tasks to be done, emails to write back?
Even though I have so many binders, I still can't find the necessary notes or documents?
Does the mess really stop me from concentrating?
Will I spend more time cleaning than finding the things I need?
I have good news for you - this book helps not only to deal with problems, but also to develop habits that will prevent "relapses".
Thanks to the audiobook, I had a chance to test methods for organizing not only what we see in our work, but also to improve the principles that guided me also in digital sphere, contact networks, and above all in time and decision management. In his latest book Marie Kondo will help you to bring your breath into each of these zones.
Let me give you an example
"Does it give you joy?" - this is the key question in the KonMari method - but you are probably wondering, what does it have for the office?
If you work for someone you usually have little impact on the office decorPlus, there are tons of things you need to work and you can't throw the tape dispenser just because black and cracked doesn't give you fun, it just pisses you off. If you work at home, maybe You still have your dream office only on the Pinterest boardor at least a lot of things are still waiting to be replaced. I understand you perfectly well, the more so because my first office was in my parents' room, the second - in the basement, the third in the basement, and only at the fourth one I went above the street level.
A new approach to this question
No matter what your job looks like todayyou will definitely agree with me that ultimately you want to work with joy. That is why Marie Kondo will be great at telling you how to reformulate this question for each of the spheres of professional life.
Let's take the simplest and most obvious example: order in the office.
What things should be left when tidying up the office? Those that:
They will make you happy - your beloved pen or notebook
They are functional - they make your work easier
They will lead you to joy in the future - thanks to them you will achieve your dream fulfillment, such as boring contracts or offers.
Although I "cleared the rubble" of our office during several attempts, there were still a lot of things that I keep private and professionally as a Wedding Planner - beautiful weddings, training and flat laye are topics that favor storage. Of course, if - like me - you have a sentimental approach to items and it is difficult for you to get rid of them, yes, there is nothing wrong with the fact that you will do the cleaning "in installments".
All my life I have placed my thoughts, feelings and memories in objects - I come from a badly wounded family, each of my parents divorced at least twice. And as absurd as it sounds, often it does objects were what gave me a sense of security and a sense of worth. My homes, stepmothers and stepfathers changed, and some things were constant.
I took the same model to the office - heaps of industry magazinesfor which I wrote articles with my name on it, decorations from old offices, logo from the first fair, the first trunk Wedding Planner ... I could mention this for a long time. Of course, also until then I had the documentation of all my existing customers with me - properly secured, but all the more taking up a lot of valuable space, completely unnecessarily.
After reading it, I looked through our stuff once again, asking myself these 3 questions above. Because maybe the magazine that I hold in my hand, although it is my souvenir, I can simply scan the pages with the article, photograph it and make room for new ones? And this logo of our company, although already broken by the teeth of time, is what most catches the eyes of customers when they come to my office? Submit documentation for destruction, sell what can be used by others or, due to lack of time, give it to a charity shop or to those in need?
I started clearing the space all over again. I picked up things one by one and asked myself questions:
"Does this thing make you happy?"
"Is it functional?"
Will it lead you to joy in the future?
And so I threw away or gave away all items from people who are no longer in my life and whom I do not remember warmly at all. For example, when I look at my office shelf every day, where there is a beautiful book on design, received from a friend with whom I have no contact today, I keep coming back to this account, even for a fraction of a second, and sometimes I start to think about what we could have done better or otherwise. I quickly realized that it was completely pointless to keep things from people who are more often sad than happy to recall them on a daily basis.
When organizing your space, remember that even if you don't enjoy something, it doesn't mean it has to end its life. You can give it a positive emotional charge and pass it on to someone else so that now it makes them happy, which I encourage you to do.
So, not wanting to surround myself with this book from my ex-friend and remind myself of a lost relationship, I thought that it would bring happiness to someone else. After all, I can give it to my friend, honestly say that I don't need this book anymore, but it can be a beautiful gift for her. By passing it on with positive vibrations, a positive emotional charge, we will give joy to a friend, and perhaps make her heart feel warm when viewing her while drinking coffee.
Thanks to this, we all save money, protect the environment, but also give ourselves something more: these things begin to have new meanings, we give them a second life.
Organizing the space following the KonMari principles "is just one of the values ​​I gained after reading the book by Marie Kondo and Scott Sonenshein.
"How To Make Your Work Enjoyable" describes simple methods that really work!
If you liked this way of tidying up your office, Marie Kondo has plenty of others for you, just as simple and effectivehere they are:
Why order - about the values ​​that an ordered space brings
If you keep coming back to the mess - what to do to avoid experiencing "relapses" of chaos
Tidying up the workplace - about tidying up the desk
Organizing the digital sphere - about keeping your desktop and phone in order
Organizing time - about time management (great chapter, perfect for me!)
Organizing decisions - or how to limit the number of decisions made during the day
Organizing your network of contacts - how wide a network of contacts do you need and how to make valuable ones
Organizing meetings - what to do to keep them concise and organized
Organizing teams - that is, about managing people and taking care of their good relations
Sharing the magic of cleaning - how to inspire others to change
How can I find even more fun at work?
The methods for organizing your space - around and in the online sphere - are presented in this book really simple and accessible to everyone - it's not quantum physics. Maybe you already know some of these methods but have never implemented them? Now is the perfect time for that. Although Marie Kondo will show you that it always is.
After tidying up my office, Fr.I felt so light and so strong joythat next weekend I came here to generally clean our conference room, then the room of my Assistant, who certainly does not feel able to make such key decisions about what to keep and what to leave.
Remember, it doesn't matter if you work from home or office, for someone else or your own company - this book is for everyone. If you feel like you want to try to increase your efficiency, stop taking too much on yourself and above all enjoy work - this is a book for you.