Publication:
03.12.2020
| Update:
21.01.2021
Christmas gift ideas for a child
Christmas gift ideas - have you got them already? There are less than a month left until Christmas, so I decided to share with you our newest toys, among which you will surely find something for your child or close children from the family.
Our recommended ideas for Christmas gifts will be great for children as young as my sons (i.e. 3 and 6 years old), but also older (up to approx. 8 years old) or younger, who also have a great time with them, so the boys invited the boys to play together also a friend, less than two-year-old Adam.
Christmas gift ideas
Safari wooden train
In our house you will find a lot of toys for the French company Janod. For several years, we have been faithful to them, because they are beautiful, durable and mostly wooden or metal.
One of these toys is Safari wooden train. Beautiful, colorful, consisting of locomotives, 3 carriageswhich are connected by delicate magnets and two petsthat travel on this train, and they are the elephant and the crocodile.
The wagons connect with the others from the Story series, so with the train "Farma" and "Fire Department", so if you have one of these sets, you can add more wagons and create a longer queue.
Little Lights lamp
Love at first sight. Not only boys 😉 Little Lights lamps I found it when I was looking for a lamp for Maximilian's Safari room. And when I found - I was lost. So a giraffe came to Max's room.
Little Lights lamps are handmade, beautiful and practical. Their fantastic feature is that thanks to the remote control you can regulate the light intensity and set the timer. After going to bed, Maks knows that he has 30 minutes to look at the books, and then the light will change its intensity to darker. It's a sign that it's time to sleep.
It's true that it's brilliant? And beautiful!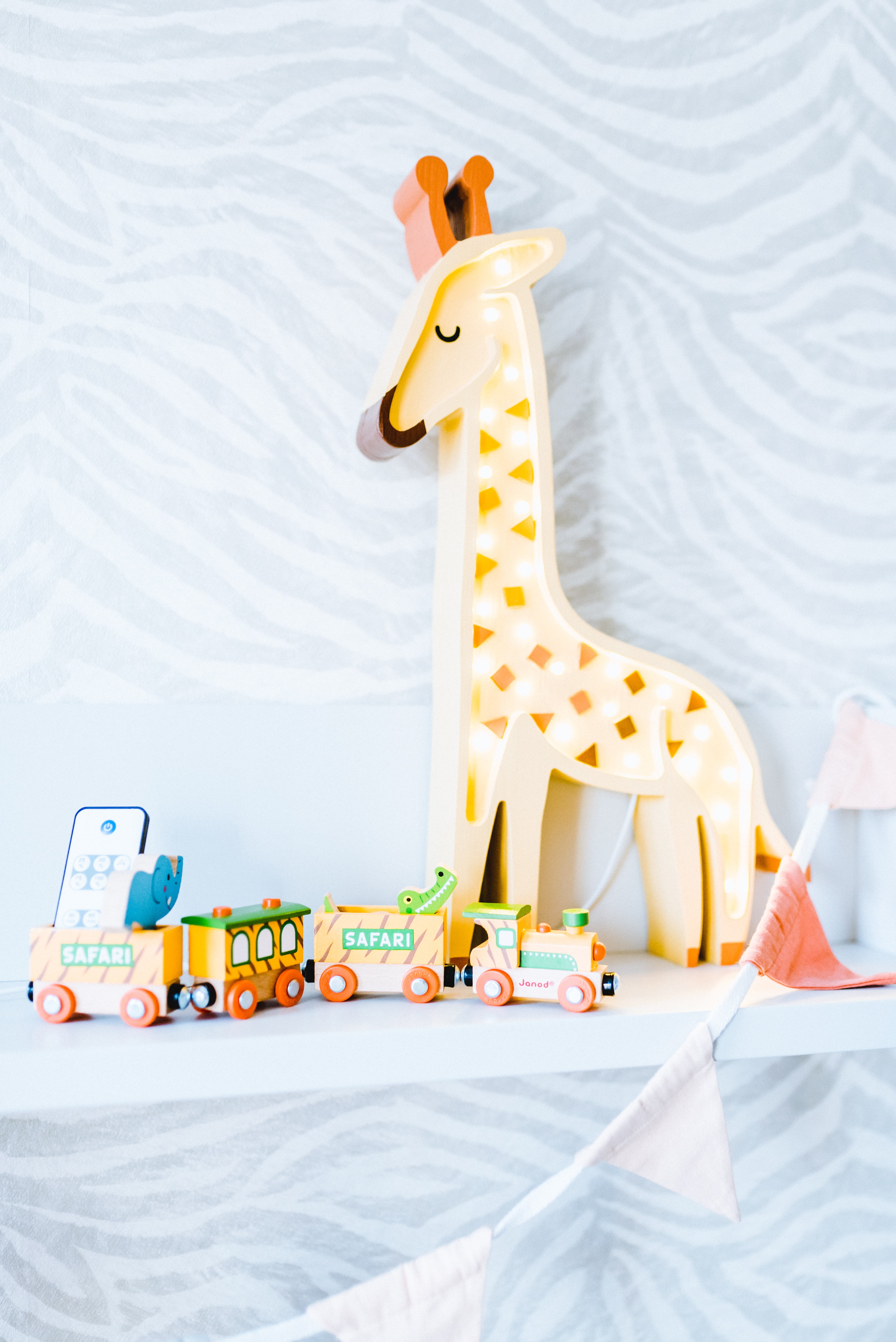 Tangram wooden puzzle
A hit in our home for a long time - wooden puzzle (also Janod), which includes 7 different colored (painted with watercolors, so safe) wooden geometric figures, which make up a mosaic on the included wooden stand.
The puzzle is included 25 boards with graphic illustrationsthat the child can map in front of him or create his own composition. Some of the puzzles in the pictures are a bit more difficult, others are quite simple, thanks to which both Maks and Mikołaj will find something for themselves.
This simple toy develops many key skillssuch as perceptiveness, recognition of shapes and colors, concentration and patience.
And what are Maks and Mikołaj sitting at?
Arctic wooden furniture set
This beautiful one wooden set from Janod he stayed in our attic for good. It consists of a wooden one a table and two chairs - one with a penguin-shaped backrest, and the other with a polar bear image.
I really like the idea for this set: it is in the middle of the table hole with removable cupwhere you can put crayons or snacks, and the chairs have wide seats, backrest and rounded edges. I am enchanted by this set!
This is where boys like to draw, do puzzles or other jigsaw puzzles, play games. Such a table with chairs is also a perfect set for various tea meetings, so we highly recommend ...
Metal tea set
Ravishing, metal tea set for serving sweet afternoon tea - also Janod.
The kit consists of a tray, a jug, 4 cups with saucers, four cookies with pieces of chocolate and a plate for these cookies.
The kit has beautiful colors - perfect for a tea set, and at the same time not so "girly" that my sons would not want to play with this wonderful set.
Arctic wooden music box
Maks was screaming with joy when he saw her! Beauty wooden music box from Janod it's perfect winter decoration for a child's room and a simple toy.
The music box is cute: it has a light blue color and painted white snowflakes. At the top of the music box, like an ice floe, it sits polar bear catching fish and a penguin circling around him.
The melody in the music box - calm and pleasant - it will also be perfect for evening relaxation before bedtime.
Wooden clock for learning about time
We slowly teach our children what time is, how it passes and how the clock works. It helps us in this perfectly wooden clock for learning hours from Janod.
The clock helps distinguish day from night, recognize the hours and understand how the clock actually works.
What's in the kit? Of course disputes wooden clock with handle and wooden removable tips: red hour hand and blue minute hand. On the clock board, to facilitate the child's task, the hours and minutes are marked with the same colors as the color of the hands. The box also contains two transparent ones day and night boards and four with a color code for different time periodswhich is a quarter, a half an hour, 45 minutes and a full hour. The set also includes 14 small boards in the shape of clock faceson which you can write the hours with a wear marker - a fun and learning experience will be when the parent marks an hour on the board, which the child must then reflect on a large clock.
Isn't it great? This clock will serve us for a long time!
Magnetic workshop trolley with tools
A paradise for every little (and big ;-)) boy!
Workshop with tools it is of course Janod again, wood again and developing many skills again.
DIY trolley includes 25 wooden elements, incl. screws and nuts, nails, slats with holes of various lengths, 3 tools attached to the workshop wall with magnets: screwdriver, wrench and hammer, and 4 gears of different sizes, which can also be removed.
Janod's workshop is fantastic! Develops fine motor skills, patience and concentration, while stimulating the imagination. As we know, children are eager to imitate adults (for example, dad screwing the screws) - and so is the child in this case also develops social skillsby role-playing. The stroller can be easily moved around the house, because it has quiet wheels finished with rubber and a comfortable handle.
The workshop is also a great gift for siblings of a similar age because thanks to the size and the large number of accessories, more people can play with it. We recommend such solutions - we also have a kitchen and a wooden pastry shop - the boys have a great time together!
Fire station - wooden garage
Every fan of Fireman Sam will be delighted!
The fire station from Janod is a set (wooden of course) consisting of fire station z multi-storey garage and heliports. In addition, the kit includes 10 accessories: of course, a fire engine, two firefighters, a helicopter, an ambulance, a doctor, as well as the necessary elements associated with the fire brigade, i.e. flames, hydrant, ladder and traffic lights.
A perfect gift for boys from little to… slightly bigger 🙂
Confetti piano red
Confetti is a series that we have known for a long time, we already have a drum, and it is time to level up. Nicholas was pleased to test the beautiful, red piano!
According to the teaching of Montessori toys should make real soundsand not artificial, that's why the red Janod instrument produces sounds of a real piano, only ... one with a smaller number of keys, eighteen.
The perfect gift from the first years of the child, teaching to recognize and remember sounds (maybe the first simple melodies?) and also developing creativity.
Coulodrome caterpillar
The coulodrome is a toy that attracts every toddler, and one that eye-catching and solidly constructed especially. Our type is a wooden coulodrome Caterpillar - also Janod. After two-story ramp looking like a meadow roll over three purple balls arranged in a small smiling caterpillar. Little balls fit comfortably in little handsbut they are not small enough for a child to swallow. At the exit of the ramp it is located Bellthe sound of which signals that the ball has hit the very bottom. Mesmerizing toy!
How do you like our ideas for Christmas gifts? Do you have any types of yours?