Publication:
03.11.2015
| Update:
28.08.2018
What is worth having in a baby's annual room? Changes are coming!
Change is my middle name. I love changes in life, at home and at work. Only in love I am constant and I do not accept them there. So there is a balance 😉
Santa's room, which you know was created for a newborn, extremely practical and comfortable, but above all for me. Mikołaj is over a year old and his room requirements have changed a lot. There is no space for toys, books, which he could have permanent access to, after all he loves them so much.
So there will be changes, not only in functionality, but also visual, let everyone have something nice for themselves 😉
And here are some of my ideas for what could be useful to children who are already a year old!
1. A place for toys
Extra shelves? Or maybe a bookcase? Drilled to the wall, of course, with containers on top of it?
1. House Bloomingville Shelf> click
2. Square shelf Wires 2 pcs, Done by Deery> click
3. Tipi house shelf> click
4. Kallax rack> photo credit > click
5. Hexagon shelf> click
6. Tipi bookcase> click
7. Wooden box for toys - 100% HANDMADE> click
8. Bookshelf house / dollhouse> click
9. Kallax 4 × 4 rack> photo credit > click
10 Kallax shelving> photo credit > click
11. Hexagonal shelf 3 pcs.> click
2. Place for books
I think that the chest on wheels will work perfectly and help you wander with books between rooms, where we just feel like reading and watching
1. Bloomingville Fox toy box> click
2. Toy box "Pythagorean's Dream" Nobobobo> click
3. SAFARI de LUX Klupś toy container> click
4. Wooden Toy Box> click
5. Wooden Box for Toys - Mamimami> click
6. A box for toys "Mint" Nobobobo> click
7. Chest on wheels, rungs - WoodenStory> click
3. Table and chairs
For drawing, painting, reading, molding, doughing - isn't all this awaiting us in the near future?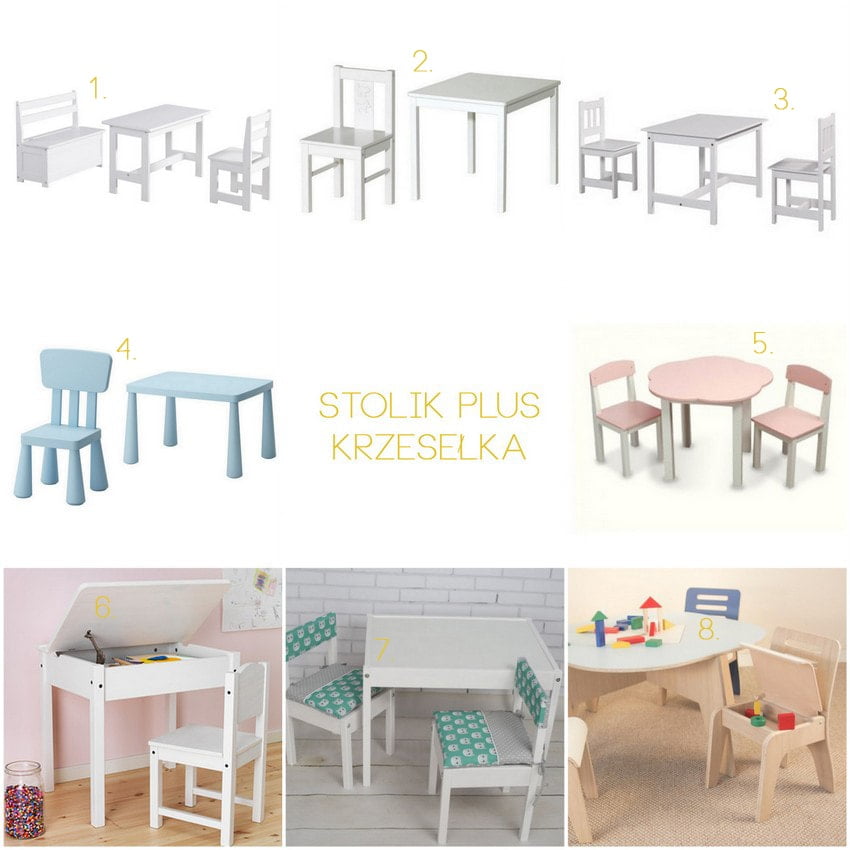 1. Toddler Pinio Set> click
2. KRITTER series of furniture for children IKEA> click
3. Junior Pinio Furniture Set for Children> click
4. Mammut furniture series for children IKEA> click
5. MAYA table + 2 chairs> click
6. SUNDVIK IKEA children's furniture> click
7. A set of table + 2 chairs for children + PAKAMERA cushions> click
8. Stokrotka Bellino table and chairs> click
4. Rag doll and clothes
To teach caring and care from an early age. Dress in pajamas, go to sleep. Ideally suited to learning body parts, colors, dressing, will develop manual skills and empathy.
1. Doll Rebeka ART-MADAM> click
2. Trousselier - Rag Doll Ninon Parisienne Saliorshirt> click
3. Arthur - a boy rag doll> click
4. Janek Lalka Chłopak Art Madam> click
5. Piotrek ART MADAM candy doll> click
6. Lisek> click
7. A boy rag doll - Sebra> click
8. Bartek boy doll> click
9. Embroidered Lalanna doll> click
10. Izabela doll> click
5. Trolley for ...
Not necessarily for a doll, after all, you can also load your favorite toys, books or folded clothes into it and transport it from place to place. The turtle and the toy car are sure to go for a ride as well. Such a cart can also act as a pusher right away.
1. Trolley, wooden car, red> click
2. White and brown trolley> click
3. Wooden trolley with a retro yellow-green dollhouse click
4. Montmartre / Wooden Story trolley> click
5. Walker wooden cart with Hape blocks> click
6. Crazy little dog - walker Janod> click
7. A pusher, a walker for children with colored blocks> click
8. Wooden cart - walker HABA car> click
9. Janod A trolley with an alphabet of 30 blocks> click
6. TIPI
Who as a child didn't love "base building"? And then sit in it all day? Two chairs and a blanket, a table and a long tablecloth or blanket, an inverted sofa bed ... probably every child loves tight "own" places, a piece of their own space, giving a sense of security. So I think a small teepee tent in the room would be a shot at 10! Not to mention the little wooden house that makes me feel warm to my heart.
1. TIPI Feathers> click
2. Tipi Ajku Chevron Gray> click
3 TIPI Little NOMAD> click
4. 1 TIPI Little NOMAD >> Moonshadow wigwam> click
5. Set of Teepee Mata Cushions Moroccan Kingdom> click
6 Neutral wind - tipi> click
7 Hanging tent> click
7. What would you add to my list?
Mmmm, it is widely known that we arrange children's rooms and we also buy toys for ourselves, so let me know what you would like?
See our other posts on how to decorate a children's room:
1. An idea for a children's room design, or how and where to start> click
2. Zigzag, asterisk and an owl - yellow and gray room for a child> click
3. Yellow-gray room for the child step by step, i.e.
list of all products with links to DIY stores and projects> click
4. How to sew curtains? DIY or do it yourself> click
5. Garland with stars for a child's room - DIY> click
6. How to organize the first sleeping place for a child? > click
7. How to organize a breastfeeding corner? > click
8. How to organize a changing corner? > click
9. Swaddle blanket, sleeping bag, swaddle blanket, or maybe a duvet and pillow? > click
10. How to choose a feeding chair? > click
11. Bin for used nappies - test and review> click
12. What is worth having in the room of a one-year-old baby? Changes are coming! > click