Publication:
20.08.2019
| Update:
26.04.2021
Children's room in a safari climate and in the spirit of Montessori - version # 1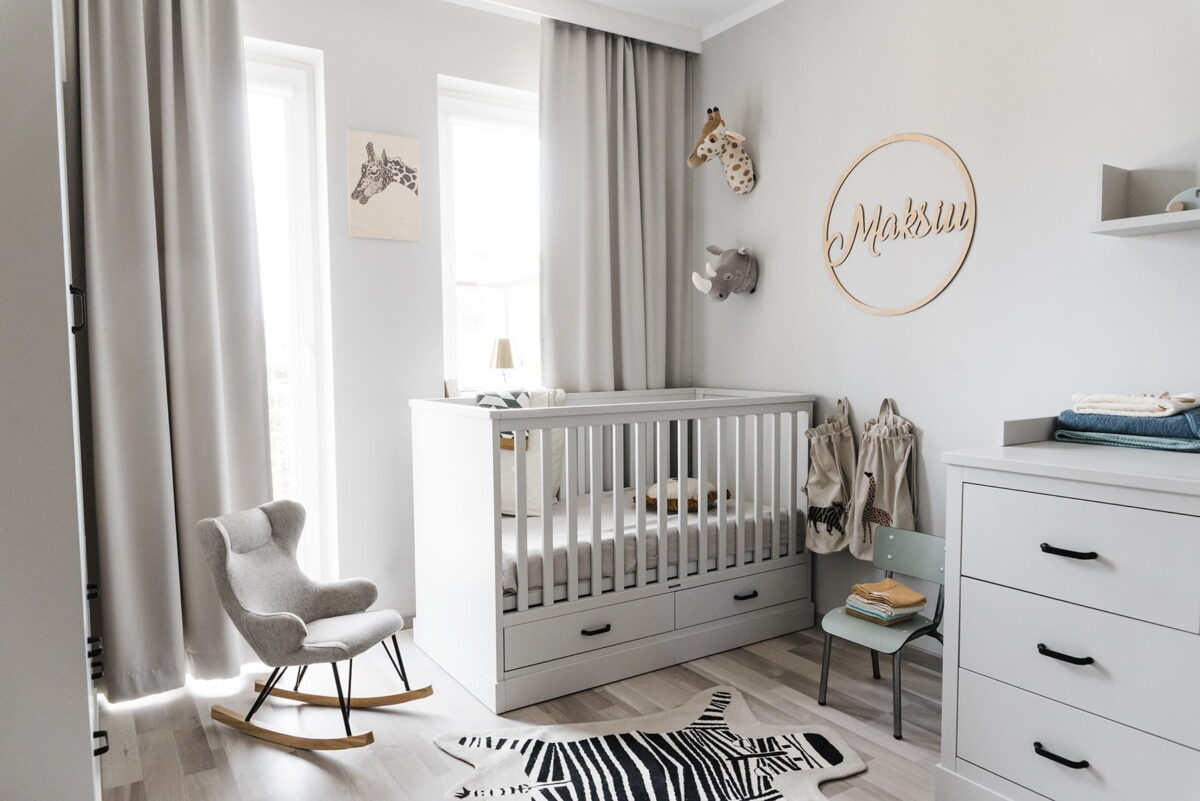 How did we arrange the children's room in a safari atmosphere? Who helped us? What products have we chosen? I invite you to the world of Maks - two year old room, our younger son.
One summer afternoon in our house we had the pleasure to host the beautiful interior architect Ewelina Gawlik, the owner of a unique Advice Center - Muppetshop. I was completing Ewelina our layette for Maks, based on her recommendations - in her store you will find only selected, best-of-a-kind products for children, which are not only functional, but also beautiful and stylish. After more than two years of using them, I can confidently say that I trust Ewelina's recommendations.
For Ewelina arranging children's and family spaces is a real passion, that's why this time I asked her for help in arranging the room for Maks. Ewelina also took a wonderful photographer Lidia from the portal with her Nice Bebe. Together we conjured up our Maks in the room the truest safari and we had a wonderful day eating chocolate French pastries and sandwiches with olive tapenade and salami! I would add that no one was pregnant 😉
How to decorate a child's room? Our room from baby to two-year-old
When arranging a room for Maks, it was much easier for me, because I was already an experienced mother, I knew our needs well, and Ewelina's additional invaluable help made us live in it perfectly.
For the first year, Maks had functional spaces in our bedroom - see ours for yourself breastfeeding corner, changing and care corner and sleeping corner of the baby - but around 1,5 years old, when I finished breastfeeding, I started thinking about making a separate room for him - a two-year-old room.
Always I dreamed of a child's room in tone-in-tone colorsbut I was thinking about white furniture. Ewelina, however, offered me a beautiful, solid, timeless gray Newport II Gray children's furniture collection from Kidsmill - I fell in love and knew that the color of the walls would also be gray.
I have always dreamed of Fr. plush heads on the wall and a wooden circle with the name of the Child - yes safari climate dominated the room theme.
I wanted them in the children's room plants, but on the other hand, I had the back of my head that it was dangerous, because a child could knock over a heavy pot on himself, eat the soil, or at best ... scatter it and make a lot of mess bał Hanging flower pots, located beyond the reach of clever hands, turned out to be the perfect solution and additionally beautifully decorated the interior.
Because Maks's room also has large windows, I decided that the interior in subdued colors will also perfectly match curtains tone in tone.
Our idea was to make the space safe and suitable for a child of one or two years old, but also a room kept in the spirit of Montessori pedagogy, which I wrote about here, and additionally created in such a thoughtful way that children's furniture would not have to be replaced every few years, but they would have enough for Maks to study.
Montessori room - children's furniture for the boy's room
Montessori rules say that everything should be adapted to the child's height and age. What is above should be empty so that the Toddler has free and safe access to any space in his room and can take things and put them in place whenever he wants. This supports his development, creativity and independence. However, I know that children grow very quickly, which is why I chose children's furniture that will be perfect also when Maks grows up or even grows up.
Baby cot
First, the crib. I did not decide to have a mattress lying on the floor, although in theory perfect in our home and with our lifestyle, I decided that it would not work. We have 3 bedrooms on the first floor - Mikusia, Maks and ours, and we sleep with the door open to always have access to fresh air, not necessarily through the open window in the children's room, but, for example, in the attic. On the first floor, there are 2 flights of well-winded stairs - one up, the other down. There are gates mounted on them, but remember that we are only people and you can forget about closing, especially when you are an older brother, but you are only 4 years old. Also, the nightly wandering around the entire floor, where there is both the bathroom and the adults' room, did not seem the safest.
Therefore it was obvious to me that we would choose a crib for safety reasons. But not as small as for Mikuś, i.e. 120 × 60 - Mikuś loved them, but he quickly stopped fitting in it and… at the age of 2 and a half he moved out of it to the guest room himself! - thus forced us to buy a new piece of furniture ;-). This time I bet on crib 140x70 inch. Necessarily with the couch function! You can disassemble one side, mount the slat and get a charming, comfortable couch when our child is ready to explore the world on their own.
I also knew it was empty space under the cot it is a hardly accessible (also for a vacuum cleaner) land, where in the middle of the night the pacifier likes to land most, so this time from the threshold I said that the cot must have drawers. We have returned to the Montessori rules and allocated them to the storage of toys - the child has free access to them. I could also put there a supply of nappies, bedding and towels. And I don't have to vacuum under it!
Rest area ...
However, due to the fact that Maksio cannot enter the cot on his own, we have arranged a rest zone for him, to which he has free access, whenever he wants, he can lie down and rest. Seriously, it does! Then he hums lullabies and gets up after 5 minutes like a newborn.
Initially it was cuddly mat... in the photo from educational stand for fun time ...
exchangeable for cute hipcia.
Children's chest of drawers
Our chest of drawers folds with two components and has two functions - of course, it is primarily a chest of drawers, but after placing a special overlay on it, it becomes a huge changing table, ideal for taking care of a child.
My children have always had a separate changing area and it works great for us. If I just scrolled them elsewhere, the boys took it for fun and ran away laughing. Although today Maks is already practicing dressing himself, when it is necessary to change a diaper, we always come back - this station for changing a nappy has something magical about it.
To make the child comfortable, Ewelina suggests Shnuggle foam changing mat - made of foam, which is soft and warm to the touch, and additionally profiled - it is higher under the head and lower under the legs, you can use it not only on the changing table, but wherever you want, for example in the bathroom on a washing machine - or even take it on vacation.
I put them in drawers supply of diapers and clothes - nothing in the chest of drawers is dangerous for the child - except I have a sight discarded washed and ironed clothes. Today, Maks loves to choose what to wear. When we have more time, instead of dressing it on a changing table, we learn self-reliance, we sit on the carpet and Maksio chooses what to wear and with little help he dresses. Mummy pride.
I always try to remember that although it takes 10 times longer, it does the best lesson of independence and motor development and probably a million other things that I can give my Baby. And the fun time spent together is an added bonus. That's when Santa usually joins us with panties on his head - this is now a signature joke of our 4 and a half year old 😉
When I remove the cover from the dresser after some time, it will become shallower and I can find another place for it, for example next to a wardrobe. Thanks to this, I will also gain space to put an adult bed and a desk under the window, when I will arrange a room for…. schoolboy?
I love solutions that can accompany us for many years and grow with the child, so now ... I decided on a wardrobe to complete.
Functional wardrobe for many years
I put blankets, bedding in the bottom drawers, ergonomic carrier, muslin nappies - anything that Maks takes out by himself will not make me too much cleaning 😉
While the upper part of the wardrobe is already the parents' zone - there are things that Maksio does not have access to - for example a thermometer or an inhaler, but I also put away clothes from which Maksio grew up on an ongoing basis and as soon as more pieces are collected, I take them to the attic, but also the clothes he grew out of Mikuś - they are waiting for their younger brother. In fact, at the age of 2, Maks would only need a cot and a chest of drawers with a changing table, but choosing a wardrobe for the set in a few years time might be troublesome, so it is here now. Inside, it has both shelves and a clothes rail, I will certainly hang the first-grader outfit in it, but maybe also for the high school graduate?
A room for a boy - decorations and toys for a children's room straight from the savannah
Ewelina chose us a genius carpet with zebra, a large plush hipciawhich is very comfortable and pleasant to touch (I have already fallen asleep on it singing lullabies ...), rocking chair…. oh, what child doesn't love it? Wooden toys, beautiful abacus and unique stuffed animals - wild animals from the savannah. All toys are made of pleasant and, above all, natural materials, with attention to all details. They come in different colors, shapes and textures - a paradise for children.
Among the additions he reigns blanket, perfect for reading together ...
towels - all sewn from cotton, muslin diapers, and even organic cotton clothes.
The mirror is a great help in the development of a child, so referring to the safari climate, I commissioned to order a giraffe-shaped mirror, made of unbreakable material. Thanks to the fact that it is safe, it could easily be so low, and Maks can easily touch it and look at it. When I chose the most important things for me, I gave the reins to Ewelina.
Our joint arrangement of the child's room
Our joint work brought beautiful results. When I was thinking about how to decorate a child's room, I already knew exactly what functionality I need and what furniture I want - a chest of drawers, a wardrobe, a bed with drawers. I knew that I wanted it to be a room in the Montessori spirit, but one that would be good for later. Ewelina perfectly combined it all and matched colorful details that additionally diversified the room. Thus, at the Polish seaside, in the heart of Gdynia, an interior in subdued colors was created, reminiscent of the real safari climate.
The post featured:
Furniture:
rocking chair - Quax - Muppetshop
cot - Kidsmill Newport II - Muppetshop
chest of drawers - Kidsmill Newport II - Muppetshop
dresser cover - changing table - Kidsmill Newport II - Muppetshop
foam changing mat - Shnuggle - Muppetshop
wardrobe - Kidsmill Newport II - Muppetshop
mint chair - Les Gambettes - Muppetshop
textiles:
swaddles, nappies and clothes made of hydrophilic cotton - Lodger - Muppetshop
organic cotton clothes - Dear Eco - Muppetshop
hooded towel - Liewood - Muppetshop
blanket with cacti - Quax - Muppetshop
fluffy mat with cactus - Quax - Muppetshop
safari storage bag - Ferm Living - Muppetshop
safari storage bag - tiger - Ferm Living - Muppetshop
Decor:
round lion pillow - Ferm Living - Muppetshop
wooden pictures - boat, giraffe - Timbergram - Muppetshop
giraffe mirror on individual orders - Dekosign
giraffe head on the wall- H&M Home
rhinoceros head on the wall - H&M Home
The inscription on the wall in the circle of Maks - Corten Design
Toys
Educational stand - Little Leaf - Muppetshop
Noah's Ark Set - Maileg - Muppetshop
Wooden toy car on a string - Liewood - Muppetshop
Plush Hippo - Quax - Muppetshop
Plush Ostrich - Quax - Muppetshop
Safari wooden puzzle - Ferm Living - Muppetshop
Puzzle Safari - Ferm Living - Muppetshop
Rubber teethers - Oli & Carol - Muppetshop
And how do you like a two-year-old room in a Safari atmosphere? 🙂
Maks was very <3