Publication:
15.12.2017
| Update:
14.05.2021
35 Christmas gift ideas for Her ♀
A shopping guide, for which I chose each gift for myself, my mother, sister or friend. Only wonders for every budget - from PLN 9 to PLN 400.
1. "Your DIY - do it yourself step by step"
Kasia Ogórek's book is a perfect gift for a DIY fan, needlework and home decorating, as well as spending free time on the widely understood "picking". You can attach the necessary tools and products to the gift, thanks to which the recipient will be able to start working immediately.
25,49 PLN - see in store
2. A candle with a wooden wick
The perfect gift for a lover of relaxation at home, mountain huts and relaxation by the fireplace ... which does not necessarily have. A candle with a wooden wick not only gives off the scent of cedar wood and glowing sticks, but also the wick itself makes a wonderfully relaxing sound, that is ... how to have a fireplace without having a fireplace
49 PLN - see in store
3. Phone holder
So that someone you give it to, the phone will never fall out of hand again. For all gadget and social media enthusiasts. Always in touch with the world!
13,96 PLN - see in store
4. Personalized cup
A hand-decorated cup with a saucer "You are irreplaceable" or any other personalized inscription is a beautiful and practical gift for a very special woman in your life.
35 PLN - see in store
5. Inflatable headrest
Regardless of the circumstances, comfort during sleep is very important. The inflatable headrest will be a great gift for the traveler, so she can sleep comfortably on the bus, plane or car, as well as under the tent.
6,90 PLN - see in store
6. Ania Dąbrowska's album
Do you know the musical taste of the person you want to give? You have an easier opinion: a music disc will definitely make her a lot of fun. Ania Dąbrowska's album is the perfect gift for a friend who is not necessarily happily in love or just anyone who is captivated by Ania's unusual voice.
37,49 PLN - see in store
7. Calendar
The wall calendar for the next year is a practical gift for the kitchen or home office, which will help organize the life of the whole house and family. This one is additionally wonderfully decorated with watercolor, hand-drawn graphics, very feminine.
PLN 38 - and on December 16 and 17, on the occasion of the store's birthday, it will be available with a -13% discount - see in store
8. Personalized jewelry
Personalized jewelry does not have to cost a fortune. Lilou offers a pendant - heart, star, horseshoe, elephant, teddy bear and many more! I have Lilou pendants myself and I really like getting them and wearing them because they have a lot of sentimental value for me. A pendant on a string or a ribbon - the choice is yours, and the fact that you can additionally ask for an engraving makes such a gift even more special. A great gift for women who like fine jewelry.
74 PLN - see in store
9. Brass earrings with agates
Beautiful jewelry is the best friend of every woman and always a good idea for a women's gift, and these wonderful earrings will be the perfect complement to many creations, suitable for smaller and larger occasions.
99,50 PLN - see in store
10. Stand for jewelry
It will perfectly decorate any dressing table or chest of drawers, a beautiful jewelry stand is an ornament in itself, and a great help in everyday jewelry storage. Let there be order and order!
79,20 PLN - see in store
11. Slippers
Oysho boudoir slippers will perfectly suit someone who appreciates elegance and a breath of luxury in life ... Slippers do not have to be ugly and boring! These are pointed and additionally decorated with feathers. Bull's-eye! And for lovers of the classics - simple but stylish felt slippers.
79,90 PLN - boudoir slippers - see in store
99,90 PLN - felt slippers - see in store
12. Wireless, "outdoor" portable speaker
For a music lover, always and everywhere, I suggest an outdoor bluetooth speaker with a hands-free kit. It wirelessly plays your favorite music from your smartphone, tablet, notebook, etc. - perfect for travel, on a trip or in the office.
74,99 PLN - see in store
13. Christmas sweater
Perfect for winter evenings with children, a book or in front of the TV, especially for fans of romantic comedies and Bridget Jones.
79,99 PLN - see in store
14. Glass Water Bottle
I don't know if you know, but liquids often take over the taste (and not only) from the containers they are in. Glass is the safest in this respect. A glass water bottle is a perfect gift for a healthy lifestyle lover. Thanks to the glass, the drink maintains its taste and does not penetrate into it harmful substances as in the case of many containers made of plastic. For the bottle to hold well and not damage the bottle, it is equipped with a silicone cover.
99,99 PLN - see in store
15. Planner / Organizer with replaceable cartridges
For a champion of an organization or for someone who wants to change their lives, the organizer from Project Planner will be the perfect gift. I use it myself and I am very happy with it. It's worth to hurry with the purchase, because 16 and 17 December you can catch 13% discount on the whole not discounted assortment!
139 PLN - see in store
16. Sweater
You probably already know this sweater - in December it was what you asked me about most often on mine Instagram. So I conclude that many of you and your Sisters or Friends would be delighted with such a classic gray sweater with an interesting frill. It goes well with both skirt and pants - I checked!
119 PLN - see in store
17. Voucher for relaxing massage and other wonderful experiences!
A good gift is not only a hit gift, but also something that will give emotions. Relaxation, relaxation, a moment of breath or a rush of adrenaline ... isn't that what we need, especially at the end of the year? Intangible gifts, such as a photo session, wine tasting or a parachute jump, packed in an envelope are perfect here.
150 PLN - see in store
18. Designer clock
If someone - like me - is interested in design and interior design and likes to pamper their four corners, they will certainly enjoy the wall clock. It is especially worth choosing one that is unusual, stylish, with an idea, for example, one inspired by the origami technique.
119,99 PLN - see in store
19. Travel jewelry box
A perfect gift for a traveler, nothing will get tangled, destroyed or lost. How many days of the trip - so many jewelry sets! 😉
159 PLN - see in store
20. Good quality, positive shirt
Wólczanka probably wants to break the office boredom and proposes a 100% cotton shirt with a cheerful fruit pattern. I'm for yes! It is also worth taking advantage of the promotion 2 for the price of 1 and simply choose a second shirt absolutely free. You can give a gift to two people or make a gift for yourself - you also need to have something to wear on Christmas Eve dinner 😉
114,95 PLN in the 2 promotion at the 1 price is valid from 12.12.2017 until 23: 59 on 18.12.2017,
PLN 229,90 at the regular price - see in store
21. Dior lip gloss
Dior lip gloss, which not only looks beautiful on the lips, is extremely efficient, but is simply beautiful and every woman who values ​​beautiful details will definitely love him. This lip gloss is a wonderful addition to any purse, and using it during the day is a real pleasure and a pinch of luxury. I especially recommend you my favorite color: nude 363, which brings out the natural color of our lips.
119,20 PLN with -20% discount on the esklep password: XMIW17 valid until 18.12.2017
PLN 149 at the regular price - see in store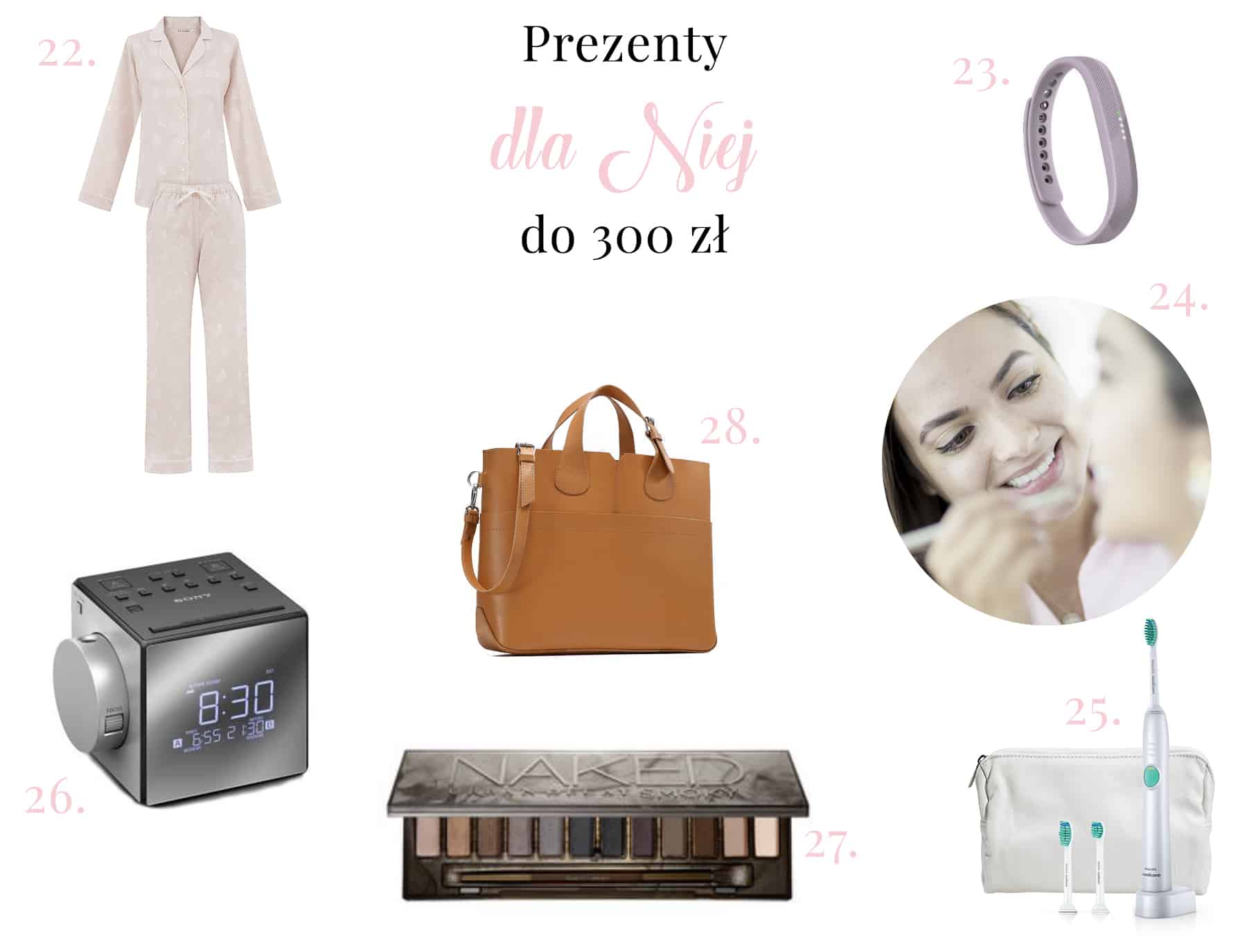 22. Pajamas
There are certainly those among you who feel best sleeping in shorts and a simple T-shirt, preferably a boyfriend or husband's T-shirt. However, each of us deserves a little luxury. Such pajamas from Lunaby, consisting of 100% high-quality cotton, will be a great gift for women of all ages, especially those who value high quality and Polish products. It's worth joining the newsletter - you will get a 10% discount!
PLN 216 - after subscribing to the newsletter
240 PLN - regular price - see in store
23. FitBit Flex2
This is a band for an active woman, or on the contrary - for the one who wants to become one, and nothing motivates her more than the result, numbers and duels! Competition is a good driving force for 🙂
I devoted to the Fitbit Flex review post people.
269 PLN - see in store
24. Makeup lesson
I used to think that in order to paint beautifully, I should finish a visage school, or at least a course. Today I know that learning to make up under the supervision of a professional make-up artist is the perfect solution, who will teach us how to paint according to your beauty type, advise you on the right cosmetics and tools. A great gift especially for young women who are just starting their adventure with makeup, so that they can learn how to emphasize their beauty, not hide.
250 PLN - read more
25. Sonic electric toothbrush
It promises to be a great invention, I think it will wonderfully replace the traditional one and will take care of every woman's smile even better, because, as you know - without a smile, we are never fully dressed 😉
239 PLN - see in store
26. Clock Radio
Perfect for all those who value nice mornings, both for a hardened owl and an early nightingale, because who would not want to wake up to the sounds of nature or your favorite radio station? I love the fact that the laser projector displays the current time on the ceiling, so whenever I don't wake up, I know what time it is. For those who do not count the time, there is of course the option to disable this function. This year it will definitely be under our Christmas tree, because although it is already on my bedside table, everyone likes it.
230 PLN - see in store
27. Eye shadow palette, legendary NAKED
Good quality cosmetics are always a desirable product. Such is, for example, the Naked Smoky makeup palette from URBAN DECAY, i.e. 12 of basic colors for day and evening make-up, classic and timeless make-up, just a classic in make-up. I am sure that it will appeal to every woman who likes to paint or is just starting to learn how to make up.
215,20 PLN - 20% discount on the esklep password: XMIW17, valid until 18.12.2017/XNUMX/XNUMX
PLN 269 at the regular price - see in store
28. Leather shoper bag
Perfect for shopping, for work or for a walk, a classic in itself that gains on closer familiarization, because it is made of real leather.
254,25 PLN - see in store
29. DKNY wallet
Cash is a common Christmas gift, and cash - you know, you have to keep it in something, and not in socks! 😉 A high-quality leather wallet will be a good gift - the choice is huge, you will surely find something for women of all ages. My choice:
377,40 PLN - see in store
30. Peacock feather earrings
Something for a special occasion and a great way out. I think many women dream of such dreams, but it is not something we would buy ourselves - maybe it is worth fulfilling someone's dreams? Available in silver and gold-plated.
329 PLN - see in store
31. Scarf
In winter, it's nice to wrap yourself in something warm and elegant. This is what the Tous shawl is like. The brand is invariably associated with the Teddy bear pattern, which makes me smile. This pattern is also found on the Kaos Devore scarf, which has neutral colors and is extremely pleasant to the touch. Importantly, this shawl is not only for one season - when unfolded, it measures 100 × 200 cm, and thus, in summer it is perfect as a shawl that can cover your shoulders on a cooler evening. The perfect gift for women who like to wear elegant and fashionable!
359 PLN - see in store
32. Classic watch
Details are important! And although the lucky time does not count, even the happiest woman will need a watch, and preferably a simple, classic, which will complement any stylization.
377,30 PLN - see in store
33. Purse for the big exit
Perfect for the upcoming New Year's Eve, it will also defend itself outside the carnival season.
399 PLN - see in store
34. Perfume
Coco Chanel used to say that "perfume is an invisible, unforgettable and one-of-a-kind fashion accessory that announces the arrival of a woman and still rings when she is gone." Perfume is undoubtedly a gift that will be perfect for every woman. This year I would like to recommend you my favorite fragrance: Flower Bomb by VIKTOR & ROLF.
PLN 355,90 - in a beautiful set with a body miniature milk and a mini shower gel 50 ml - see in store
35. Everyday leather handbag
Leather is probably the only material that can age nobly. This gray leather handbag will be the perfect complement to any everyday stylization, it will undoubtedly be appreciated by a woman who values ​​classics.
373,15 - see in store
And what would you be the most happy about?