Publication:
18.08.2018
| Update:
31.08.2018
Holidays with children in a tent - a survival school or a fun adventure?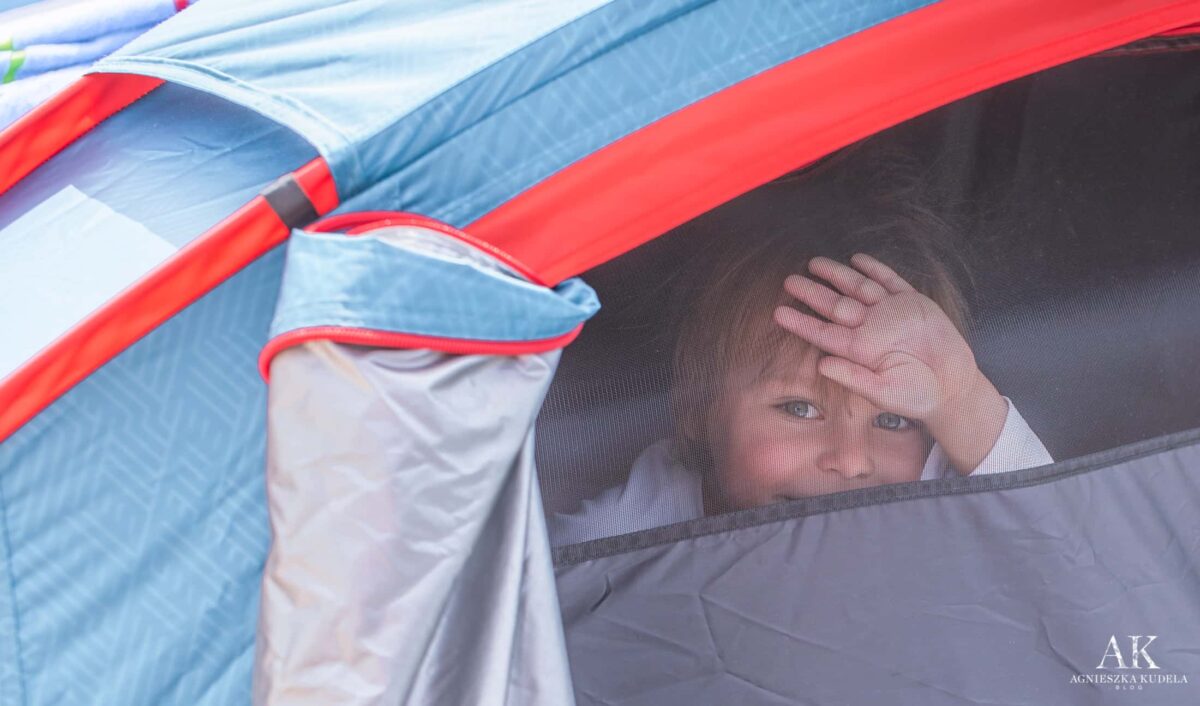 Holidays with children in a tent are the last thing I planned for this yearand even for the next 20 years. How did it happen that I changed my mind and was it worth the risk to leave?
We had planned for July 2 vacation weeks, of which we have planned for the first week family trip in two or three families in Masuria, where all but us were to sleep in the tent, and we had a beautiful two-bedroom house rented out.
I allowed to take a tent with us for this trip to pitch it right next to the terrace and during the day to have a nice "base" or other hiding place to play with children, of course, we were to cook, live and sleep in the house.
Preparations for the trip were extremely emotional for our whole family, especially for Mikuś and Maks, we prepared a tent, mattresses, travel cots for boys with sleeping bags, outdoor games and many great gadgets that were supposed to make our holiday in the forest more pleasant. lake.
Unfortunately the weather thwarted our plans and because of rain pouring day and night for a week, ours the trip did not take place. You probably know what it was like Santa's despairwho had already slept with his flashlight with the radio and could not hear that he would not leave.
Our cottage in Masuria was lost to us together with the advance, but as soon as the sun came out, we decided with a five-day delay to go on a holiday adventure in the cottage + tent version. Unfortunately, it turned out that half of Poland came up with an idea like us and with the advent of beautiful weather, the number of offers for renting houses and apartments in our area dropped to zero. To zero!
And then out of the great need to give my children the promised tent fun, I decided to drive to the store, buy the necessary gadgets and go with them to ... a campsite on the Hel Peninsula, where shallow water is ideal for children, and the close distance from our home has allowed us to get without any drama along the way and thirty-two stops for crying, peeing, eating or feeding.
How to choose a camping for holidays with children?
I would love to write about what you need to pay attention to when choosing a campsite, but after arriving at the Hel Peninsula, it turned out that most campsites don't accept tents at all (only caravans and campers and only upon prior reservation ... for example, one year in advance!).
Only two campsites accept tentsbut on none of them tent space cannot be reserved. The first of them is Solar, which unfortunately there was not a single free space, and the second one to Polaris, which since my high school is famous for always accepting everyone. Fortunately, nothing has changed in this topic, we got the green light and set off to look for a place for our tent.
When we were at Polaris for the last time some 10 years ago, we managed to find a place for a tent with the shoreline, this time we were not so lucky and we crashed in the middle of the square, but happily near toilets and restaurants.
One day stay on Polaris cost us for: car + tent + 2 adults + 2 children some 78 zlotys. There are certainly cheaper campsites in Poland, but in my opinion it is difficult to find a more charming (and convenient for me) location than the Peninsula, which has as many supporters as opponents, because it is quite crowded there - do you know that there are some of the best in the whole Europe conditions for windsurfing? I laugh that this one price is a compilation of camping prices and this amazing location.
What has also not changed in the 20 years I was here for the first time is ... hot water in the shower for 2-zloty coins!! If you didn't know about it before coming, it might be a pain in the ass for you, but for me it's just a funny memory of my teenage youth. You can easily exchange two at the reception, and in fact we had to add PLN 8 a day to the price of the stay - a shower for me and Wojtek in the morning and evening - Mikuś was taking the shower with Dad and I was washing Maks in the sink. Despite the fact that the campsite has put into operation new beautiful bathrooms, it did not relieve the queues and often when I stood in them, I took the honorable 12th position - then I was glad that the hot water was coin-operated, because no one was in them for too long.
They are on the campsite two playgrounds, one as real as we have in the estates, and the other, next to the reception, for smaller children, consisting of such plastic houses and constructions.
The campsite has a very narrow beach, but luckily it is right next door beautiful beach at another campsite, and these campsites are not completely separated from the sea line, you don't even know when you are next to you. We also walked to different campsites for ice cream or dinner.
And how was the vacation with the children in the tent?
When I threw in Instastory from the trip, my friend Asia she asked me if I lost any bet. Seriously, I wouldn't suspect myself of this, and Wojtek was sure that he would never talk me into such a trip.
When we got to the camping and the lady at the reception asked us for how many nights we wanted to stay, I laughed and said that if I survive the first night I will come back to talk about the stay. Seriously, I allowed to come back the first night, for example at three in the morning - I was expecting such a cataclysm, so I chose a campsite so close to home.
It turned out that after spending the whole day outdoors Santa fell asleep at 19: 30, Max little later, just died from the amount of fresh air, running and sensations, and we had the night under the open sky to ourselves. Of course, as we talked to, we joined the children in a tent.
Amazing on such a trip is that all the time you are in the fresh air, as soon as you put your foot out of the bed (mattress) until you fall behind there late at night, although it's basically hard to say that being in a tent you are not in the open air. It was such a unique experience for me!
The other day we extended our stay for the next two days, that's all, because we had to go to Warsaw in connection with my performance in Breakfast Question.
Which tent should you choose for a holiday with children?
The tent was primarily meant for sleeping. So our priority was that it should decompose quickly, be small, light when folded and not warm up from the sun - from my teenage trips to the Hel Peninsula, I remember getting up at 5 am and sleeping on the sand, because in the tent it was impossible to hot to endure. We wanted to save ourselves and our children, when every minute of sleep is now at a premium.
Due to the fact that the children are small, and we (unfortunately) are accustomed to sleeping in a pile, we chose 3-person tent, XL version, "2 seconds" tent that is unfolded in almost two seconds, and additionally providing coolness and darkening even on a hot day, which were to ensure that the children would not get up with the sun at 4 am.
I admit that the vision of a black tent overwhelmed me a lot, but when I left it in the morning and saw that we were actually sleeping "in the pan", and inside it was still dark and comfortable, mainly in terms of temperature, I thanked my husband for choosing a black tent middle.
Unfolding was really immediate - of course, the time of 2 seconds does not include tightening the strings and inserting pins, but there is no folding and threading of the tubes, separate folding of the flysheet and the bedroom. Everything is a coherent whole, I don't know if anyone will ever persuade me to go to a regular tent again. There are also cool windows in the tent for ventilation and a vestibule with a floor where you can keep your belongings. Folding was a bit more difficult as it was less intuitive.
What accessories should you take under your tent?
We took with us a rather minimalistic version, but we can not imagine our trip without:
Inflatable sleeping mattress
We took for us and Maks double air mattress (sleeping on a sleeping pad would probably be too much for me, although maybe I say this because I have never slept on an inflatable sleeping pad and I only rely on my imagination of ... a pine cone sticking into my butt) We bought additional to it pump - I was shocked at how quickly it inflates the mattress compared to our electric one which is slow as a snail and makes more noise than blowing. It also has the function of extracting air from the mattress, I remember from my childhood that it was also quite a job.
Due to the fact that this is our first trip to the tent, we have not decided to generate additional costs and buy sleeping bags for us, since we did not know whether we would like this form of rest at all and whether we will ever go again. That's why we took homemade white sheet on an elastic band and our home bedding: two pillows, two pillows and a duvet 220 × 200 cm. The only drawback of such a solution is taking up a lot of space in the luggage space of the car, and we slept perfectly in our bedding.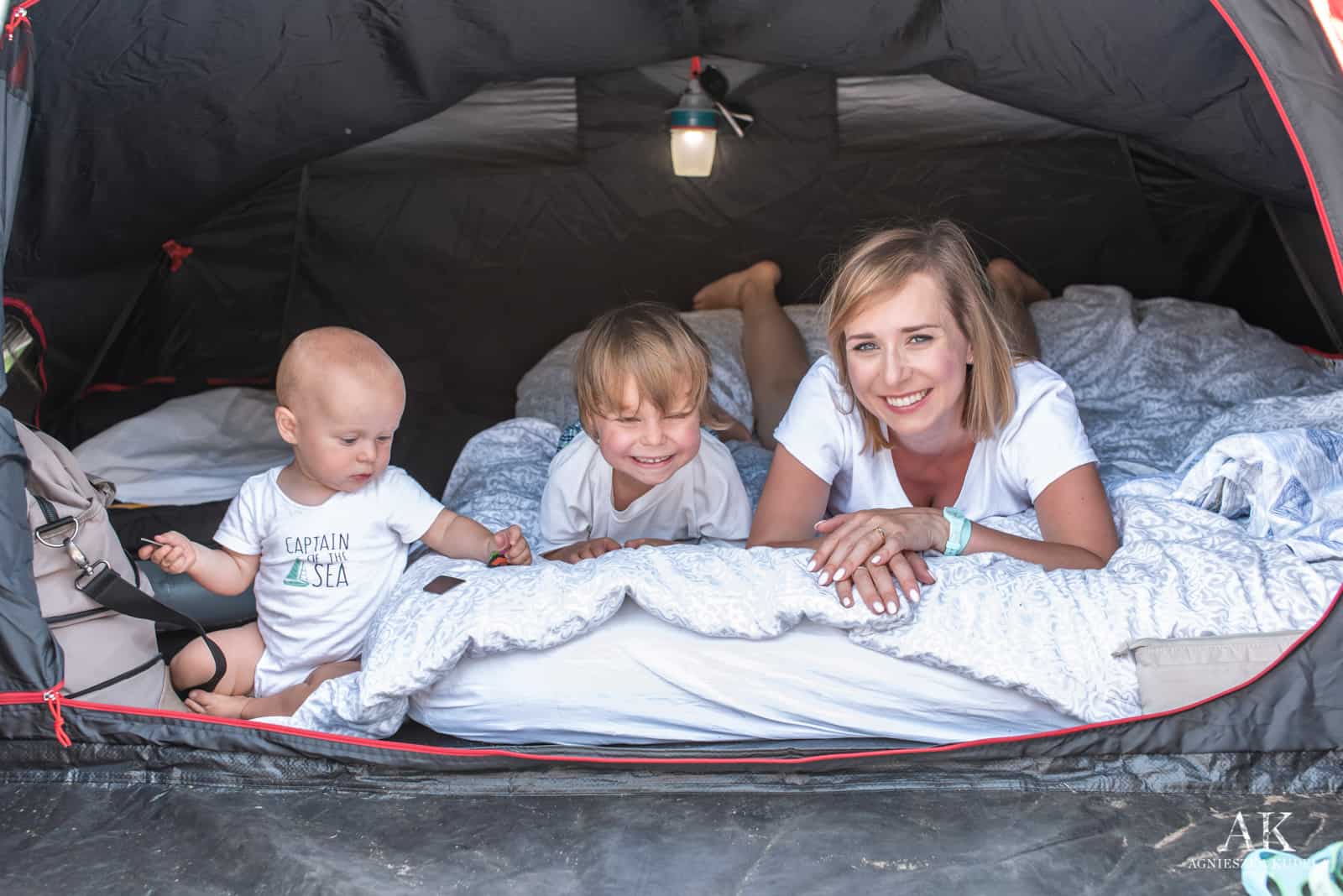 Children's mattress with sleeping bag for Mikuś - a small, penguin-shaped air mattress, to which a penguin-shaped sleeping bag is applied it was a hit of our trip, and thanks to the fact that the mattress was smaller than for an adult, we gained a lot of luggage space in the tent; such a mattress will also be perfect for the future as Travel cot for Mikusia for all our trips, whether in a tent or to a hotelinstead of an extra bed, or even a trip to Grandma or a friend for the night.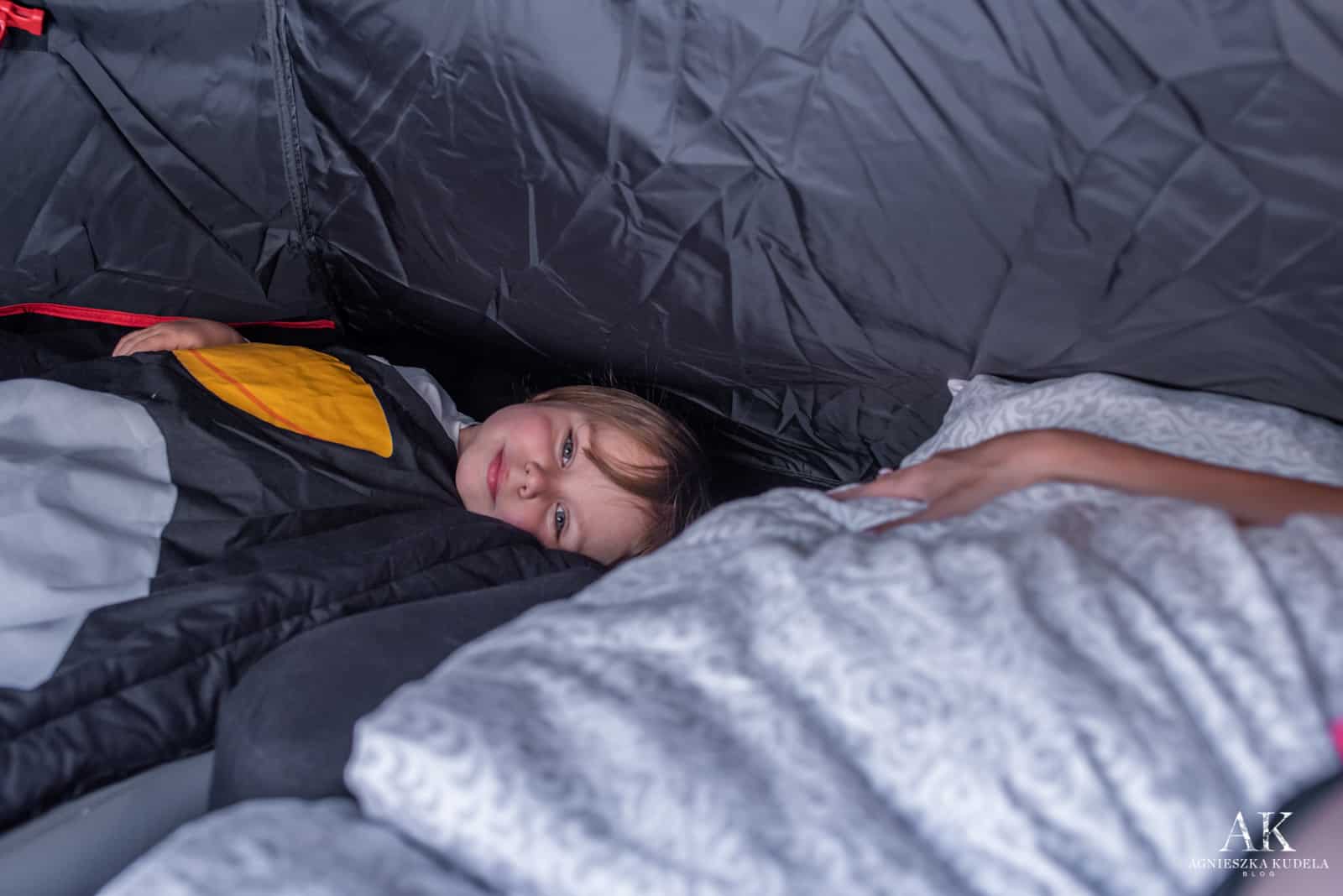 Table and chairs
We bet on low tablebecause, firstly, it took up much less space when folded, i.e. it was smaller luggage, and most importantly it was less subversive and also available to children - thanks to him drinks were available to children at all times - at any time when they felt thirsty, they could drink, which is especially important when we spend the whole day outdoors.
I took the children to drink - BPA-free water bottle for Maks and cup with spout for Mikołaj - although he drinks from an ordinary glass on a daily basis, we chose a cup so that only he would have access to the water at the campsite, not wasps and flies.
We took boiling water from the house in a thermos - this one terms it is sensational, absolutely not leaking, and the hot water was still late in the evening, so it was enough that we refilled it in the restaurant once a day.
PS In our family there is a commune and - as you can see - children do not share things and drink from what is at hand.
Travel bed for Maks in the form of a tent, but with a mattress that proved to be perfect for us outside, so when I was alone and, for example, I was looking after Mikus, Maks was safe in it (he didn't eat sand or stones).
This cot is ideal not only for an afternoon nap at the campsite, but also has already worked great for us while staying at the hotel - finally, a crib that is so tiny and light that you can take it with you even on vacation by plane. And if you are with us on Instagram, you have certainly seen these fantastic videos of how children play in this tent at home. And if you haven't seen it yet, be sure to start watching on my Instagram, where I always publish reports on trips like this one.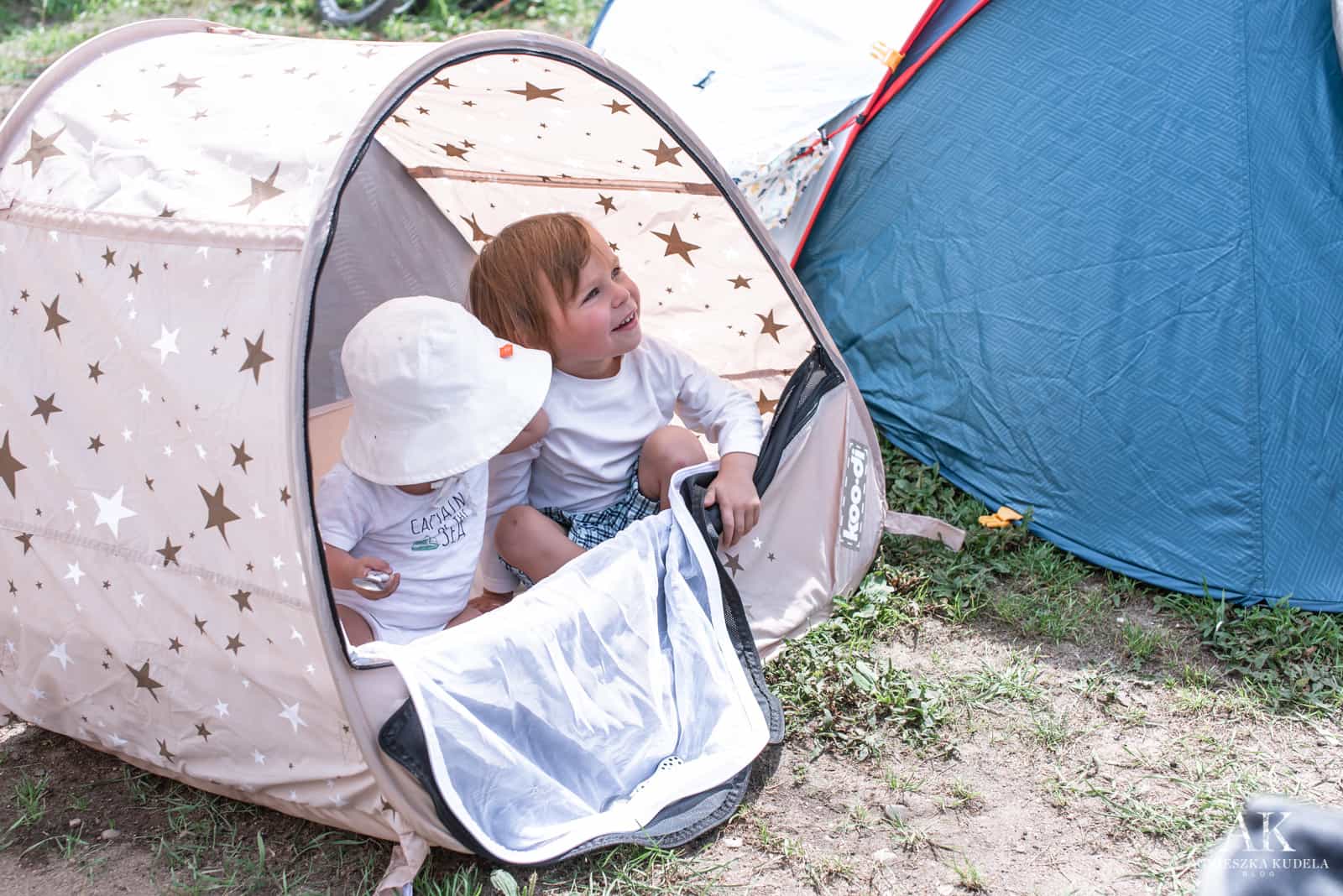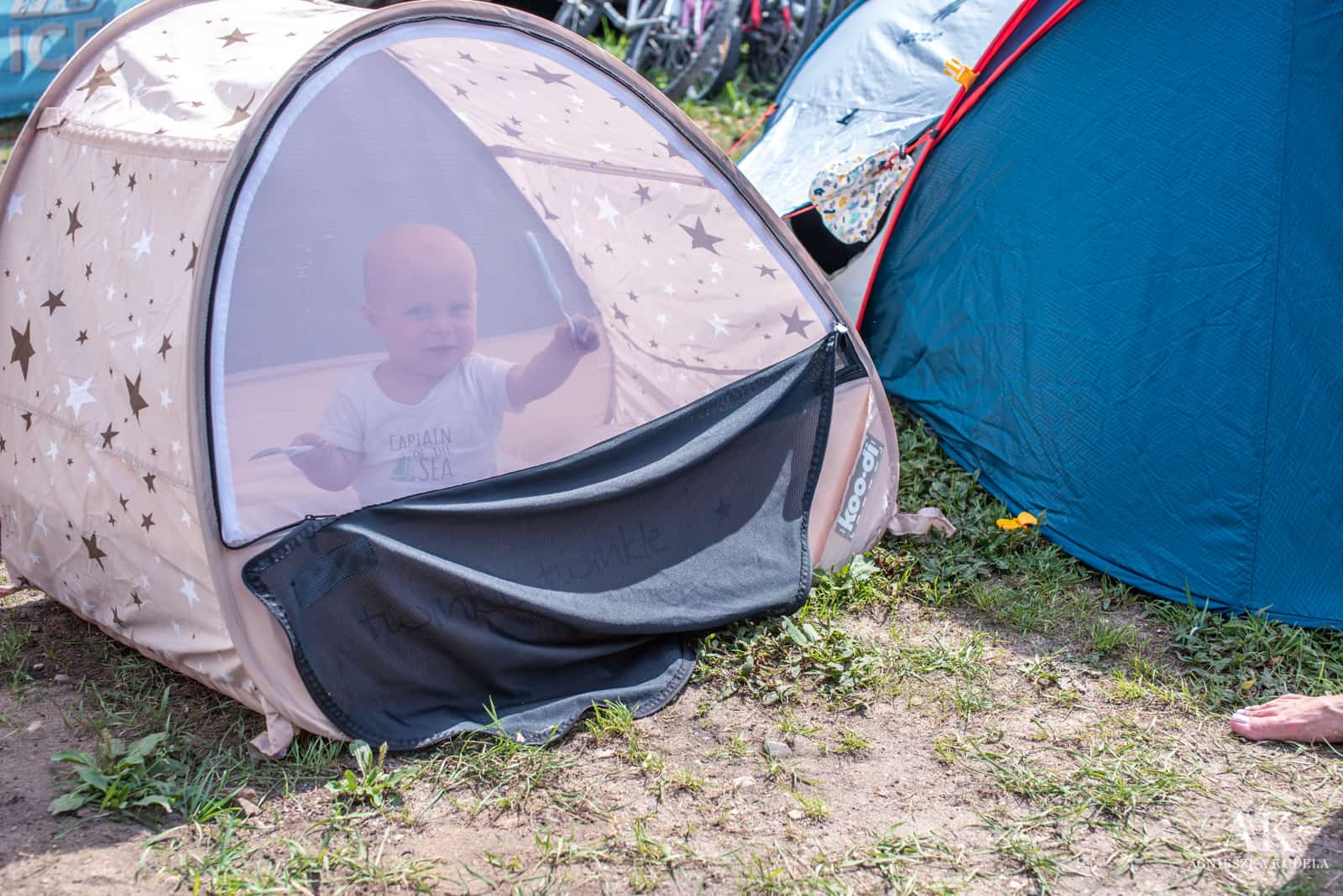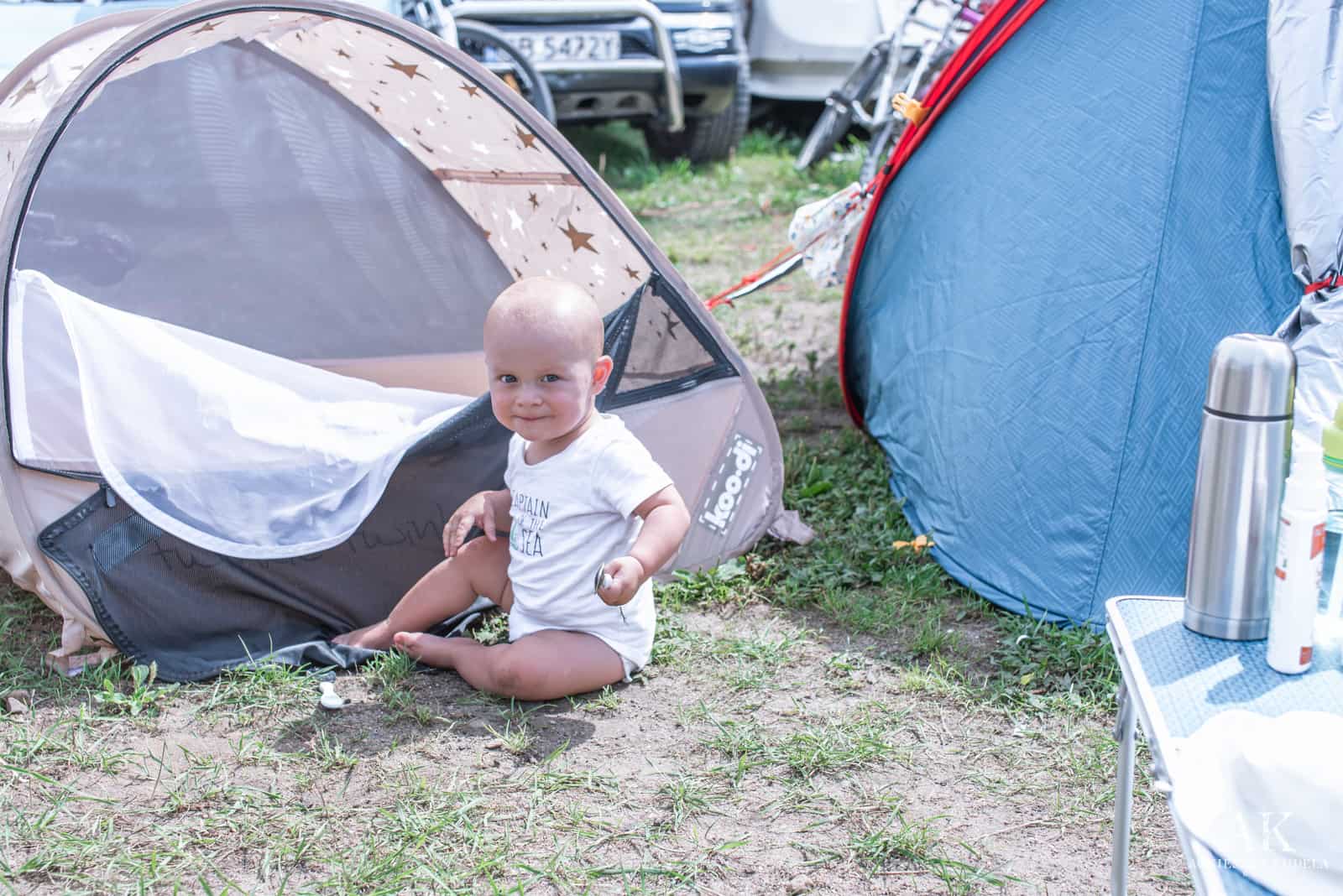 chairs we took with us two - for me and Wojtek, absolutely with a basket for warm coffee or another delicious drink in the evening, and of course we quickly understood that we lack a chair for Santa.
Flashlight with radio It's a gift that Santa received on the occasion of the trip, a symbol of our camping and the responsibility of a 3-year-old - there is nothing like listening to music at the campsite, and at night the light was perfect to find a way to the toilet.
Tent lamp - this one is sensational, because not only does it have two white light intensities, it also has red light, which not only does not dazzle the eyes at night, but is the only one that ensures comfort at night. When you look at red light in a dark room and then at something else, your eyes can see sharply and clearly at once, it does not have to adapt, as it would be when looking at light of a different color.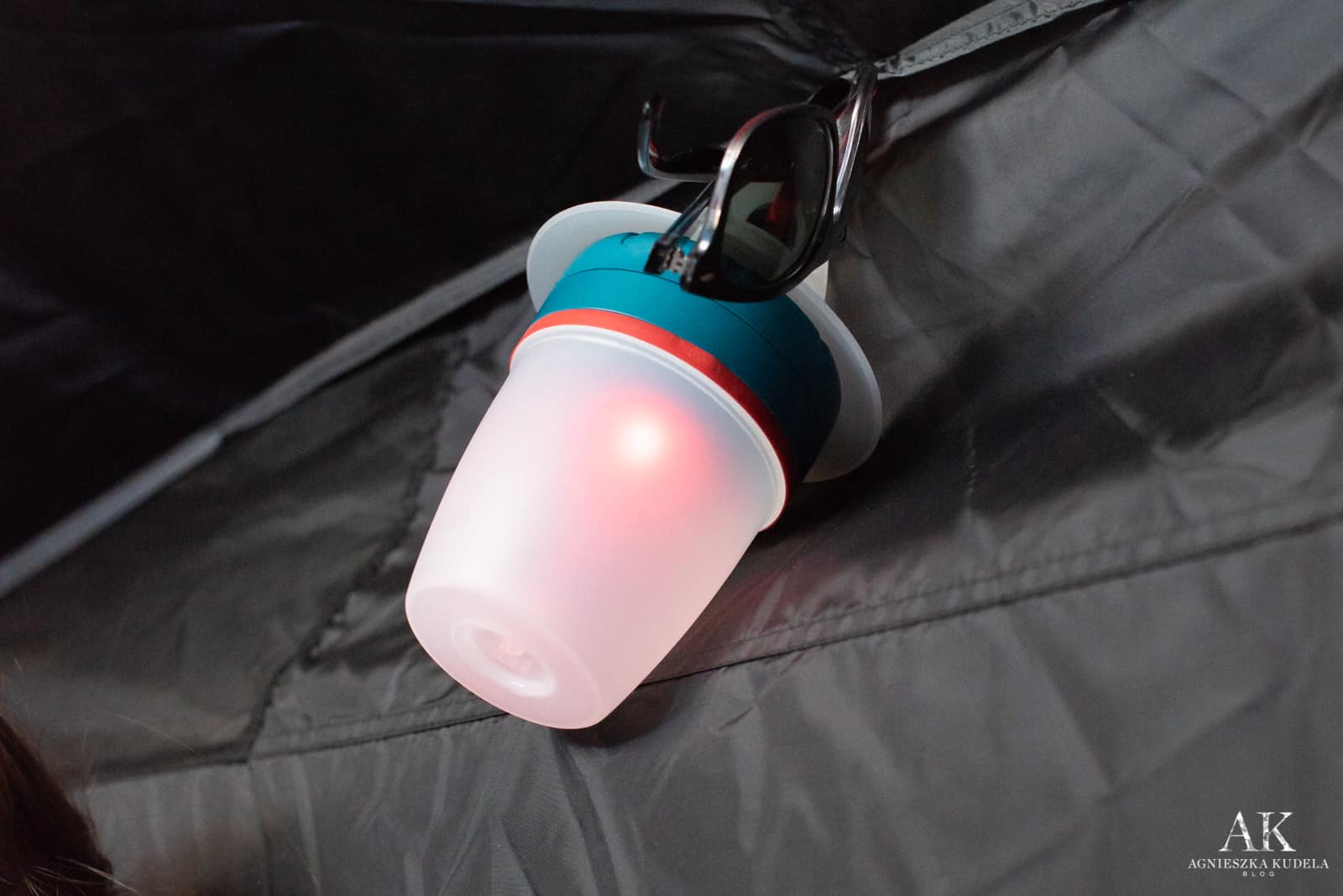 Games and fun, that is, in a world without excessive stimulation, and above all without our own room full of toys, we made sure that this trip was not only a fantastic adventure, but also informative fun. We took with us:
Traveling magnetic games, just in time for the tent, thanks to which we can be sure that the elements of the game will not fall off and will not get lost, and fun is possible in any position.
Magnifying magnifier - we even managed to spot the lizard! The bottom is removable, so it is enough to place the magnifier over the object, you do not need to catch an insect or a reptile. A walk in search of natural curiosities, especially with the explorer's beltit's very addictive! You just have to be careful - you must not leave the magnifying glass outside the tent, in the sun, because it focuses the sun's rays so that it can cause a fire - we managed to conduct an experiment and light a candle with it at the campsite,
Insect repellent and sun protection, or natural filter Alphanova Bebe 50 and hats and bathing suits with a UV filter this is the absolute basis for a holiday stay in the fresh air, I wrote more about them in the post of Fr. our favorite holiday gadgets.
Handy first aid kit that is slices, disinfectant spray, bite ointment plus of course the full equipment of the car first aid kit. We also took antipyretics and an inhaler with medicines (a small allergy's must-have and although our children have almost grown up with allergies, they are at increased risk).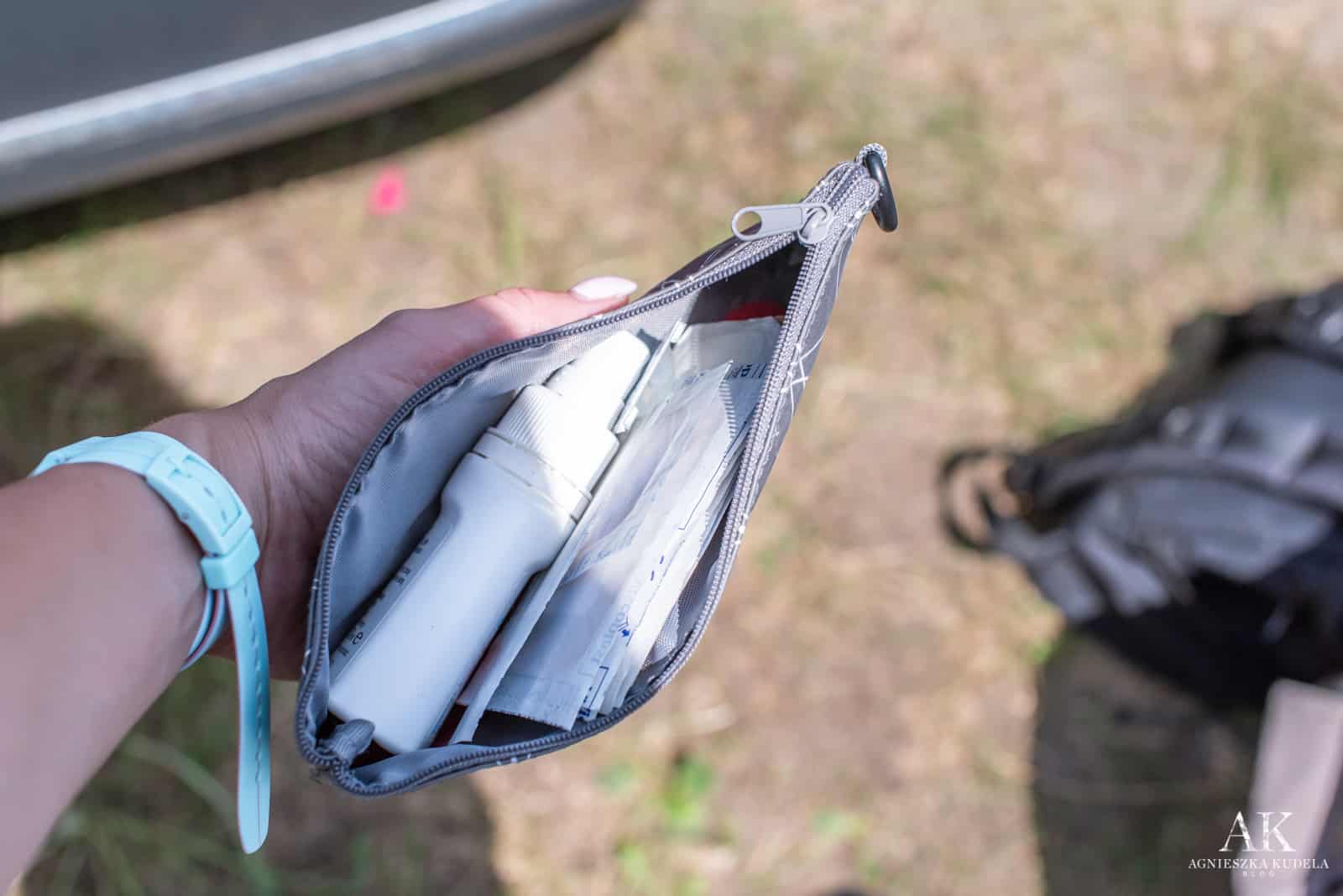 A tool for removing ticks - I have the impression that this year there is a tick plague, as recently we were with the family at the lake, two people were bitten, so we have acquired a device that increases the safety of removing such a tick.
Eating under a tent
Due to the fact that we didn't invest in any kitchen solutions, such as a gas cooker or a tourist fridge, and in addition, personally, to fully relax, we need "free" from cooking, this time we decided to eat in restaurants. There are breakfast sets available at the campsite - scrambled eggs have tasted exactly the same here for 20 years! We only took healthy ones with us snacks, drinking water and carefully selected jars for Maks and instant porridges for both, for which fruit mousses and hot water were sufficient. We bought fresh fruit and vegetables in a camping store.
We also took our home with us children's dishes - they are melanin, so they won't break.
What did we miss during the trip and will we take with us next time?
Anti-mosquito candles - we came up with this idea on the day of our departure, but we couldn't get them anywhere.
Chairs for Santa, e.g such a.
Folding mats in front of the tent, unfortunately the ground was very dirty on the feet and it was not suitable for sitting, so it was additional tent floor would be perfect.
Blanket with rubber - we spread a large towel in front of the tent, but there is one blanket insulated from moist soil would work great.
Gas stove - I wouldn't have to run to a restaurant for coffee, we could fry scrambled eggs ourselves or cook a regular porridge, or even heat a dinner in a jar - if your little one eats modified milk, warm water will be very useful to you. This a tiny tourist stove would be perfect for us.
Additional light on outside, the same as in the middle of the tent, to sit in the evening not only by candlelight - sometimes a stronger light would be needed, and the candles were blown by the wind, so Wojtek cut out fancy lanterns from cans.
Tent with mosquito net it would be ideal for longer trips, to have a table and chairs under it, during the day to shelter from rain and in the evening from mosquitoes.
The coolest thing is that for the tent, chairs, table we paid as much as for 1 night in the only hotel that was available within that time within 30 km from the campsite. AND we have completed a great base for further trips. We will definitely use it later this year!
And how do you perceive such a trip? Life adventure or survival school?