Publication:
06.04.2020
| Update:
19.10.2020
Toys for three years old
Toys for a XNUMX-year-old cannot be hidden, it is also a lot of fun for parents, so I am pleased to invite you to our list of the coolest toys for a XNUMX-year-old.
Toys for three years old
My sons, Mikołaj and Maksymilian, are currently just over 5,5 years old, 2 years and 9 months old. The older period of being a three-year-old is behind him, and the younger one is in it. Both boys are very happy to play with toys for the three-year-old, because it turned out that we chose the universal ones that did not go out of circulation quickly. So you can be sure that the old boy will have a great time with them. Today I can recommend you with full conviction the best toys for a three-year-old - at least in our opinion.
Wooden patisserie
I show you regular cooking for children on my Instagram. We love to bake waffles together, fry pancakes or sell donuts 🙂 Maksiu also loves cooking in confectionery and selling pastries to his older brother. I love watching them play together! And they play every day! We deliver a table and stools and the whole family has something to do for hours.
Ta candy from Janod it is very richly equipped. It has, of course, a waffle iron, a signboard on which you can write with chalk (chalk is also included), and a cash register with banknotes and coins. The set also includes a number of accessories, including: wooden eggs, a bowl and a whisk, wooden donuts, waffles and pancakes, sliced ​​wooden fruit, and even paper bags for take-away products. The attached tongs teach children how to efficiently manipulate small hands, and the cash register makes the party even more attractive. However, children's The cooking fun does not end with sweets - you can choose, for example kitchen or vegetable store - They are wonderful!
Let your child let his imagination run wild and surprise you with a sweet, homemade pancake! 🙂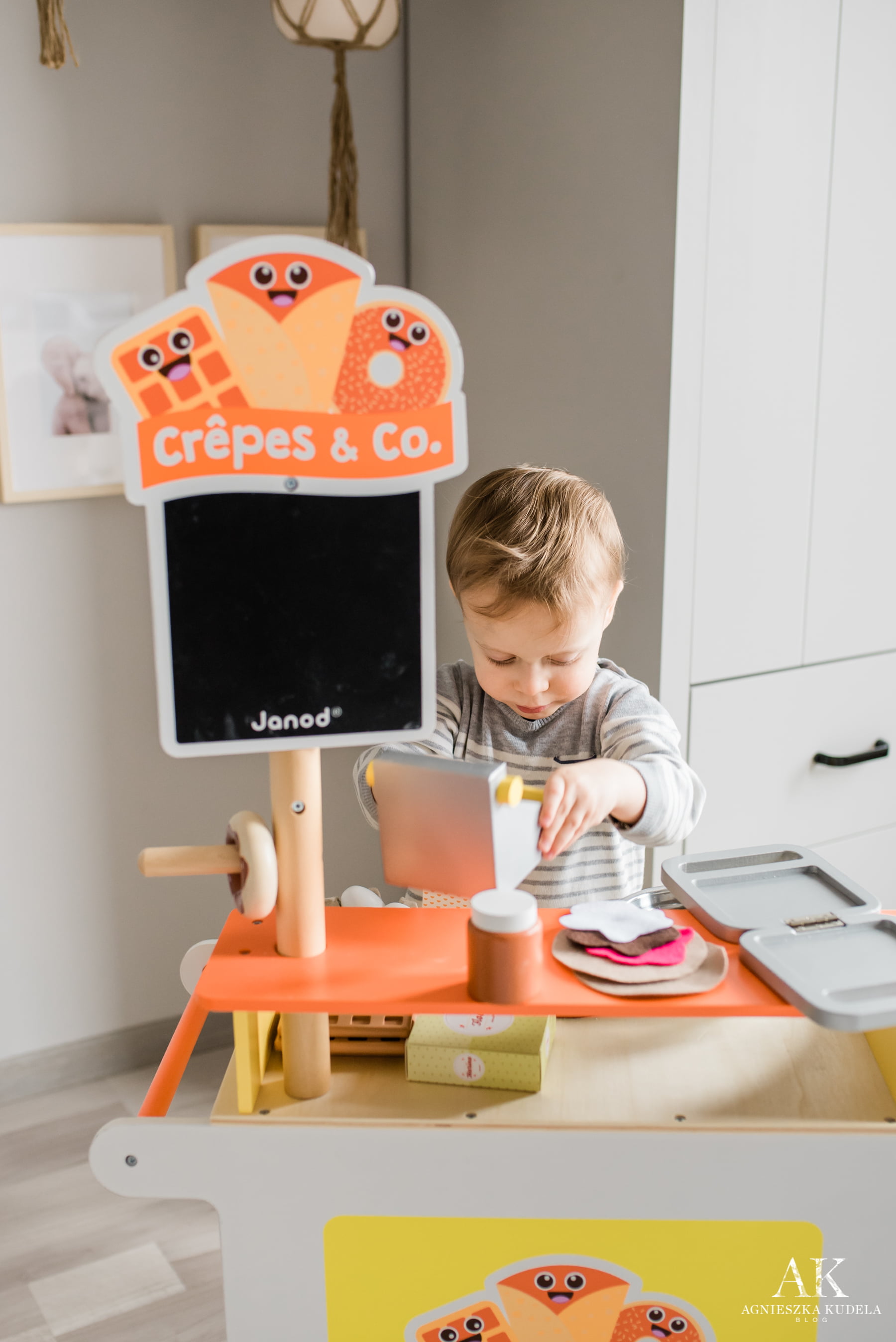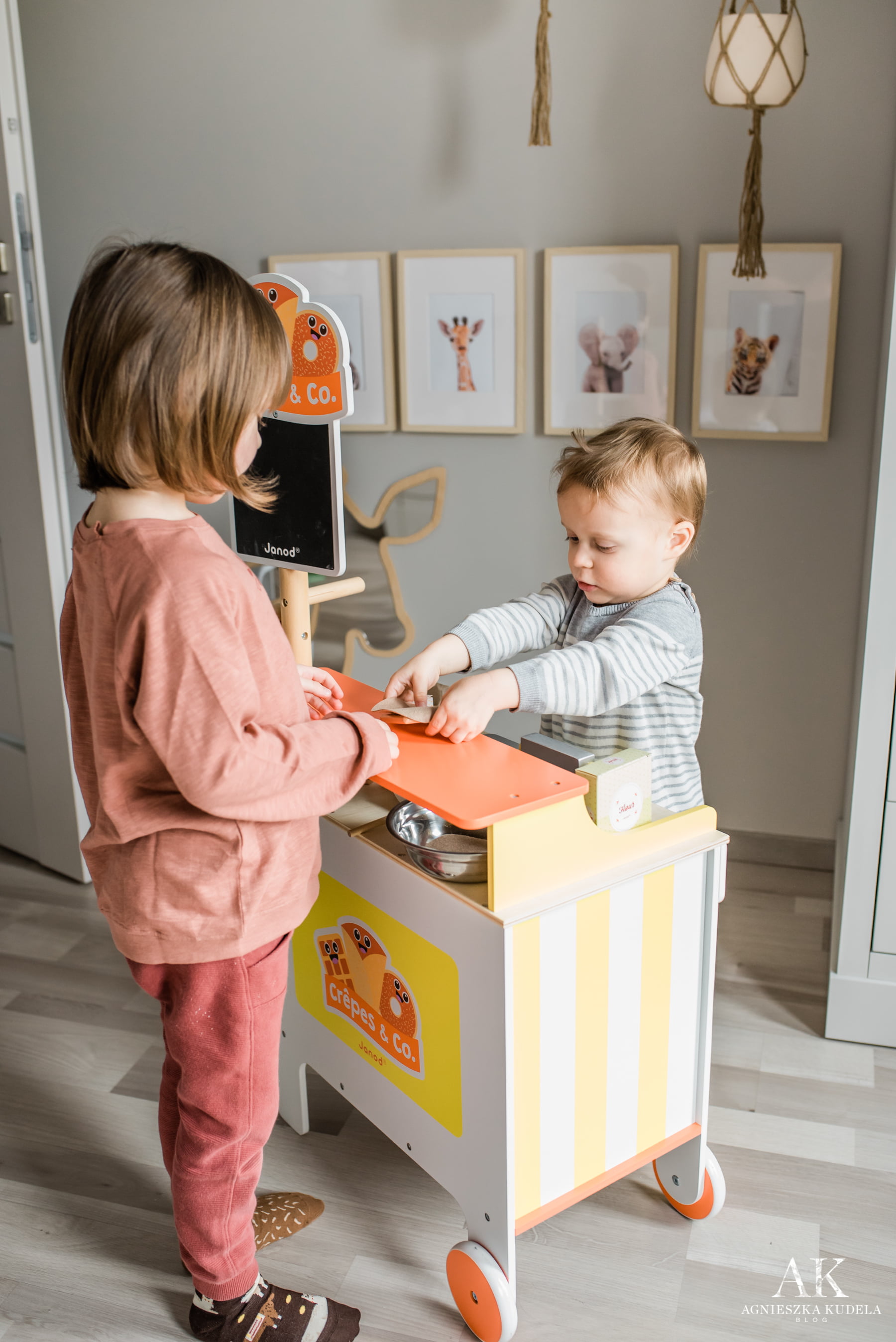 At the end of the day, you have to count the cash - no manko has crept in!
Magnetic puzzle
A great toy when you want to take something with you on a trip or a trip to your grandparents - otherwise, I would write that on the plane or to the queue to the doctor. A handy magnetic puzzlethat fits in a box that looks and is the size of a book. The lid of the box is a magnetized puzzle background, and the box contains 50 elements and cards with pictures to be arranged, but the child can also create any picture. Thanks to endless possibilities, a toy doesn't get bored quickly, awakens artistic sense, and also trains manual dexterity and logical thinking in a child. A great toy for a three-year-old - a little car lover and more.
Ferris wheel
Both Maks and older Mikołaj really liked sending animals for a ride ferris wheel. Animals can be put into wooden numbered wagons, and then by turning the handle, the wheel is set in motion. In addition, a small counter with three beads is mounted in the wheel, which will help the toddler count the animals, turns or rides.
Rainbow
Dëna silicone rainbow is not only an alternative to Grimm's wooden rainbow, but also a completely different toy. It gives an amazing field for developing the imagination of a small child. The set consists of 12 multi-colored arches that the child can arrange in any way, creating towers, shapes, figures. We also learn colors and numbers on it 🙂 It does not contain BPA, PVC, phthalates or latex, so it is completely safe.
Bath toys and teethers in one
Great toys for three years old and younger children. I think every child loves playing in the bath. Toys that both boys play with are great for us. We have in our collection ducks (blue and yellow), water lily i shark fin. These are toys / teethers from the Floaties series, which make the child familiar with plants and animals related to water. All toys are from Oli and Carol - we like very much toys from this company. They are made of safe material - natural rubber - completely safe, they worked great for Maks' teething. What is very important - they are rubber, but they do not have a hole, so that no water accumulates inside and does not "bloom" - the toys can be disinfected regularly.
But who said that bath toys need only be for bathing? They will be perfect on the balcony or on the terracee. Taking advantage of the sunny weather, we took a transparent container, filled it with water and played with floating toys in the garden. Of course with wellies on your feet!
Sensory puzzles
Any sensory puzzle from Janod is a hit - I know it for a long time. My children love to arrange them and stroke the bellies of the animals - each of them feels completely different to the touch! The polar bear is so nice that our Maksio always hugs him to his cheek, and he looks at the shiny whale's fin like in a mirror! Our newest acquisition is Ice Land puzzles, thanks to which boys could also stroke a seal, fish or penguin. Sooooo we recommend!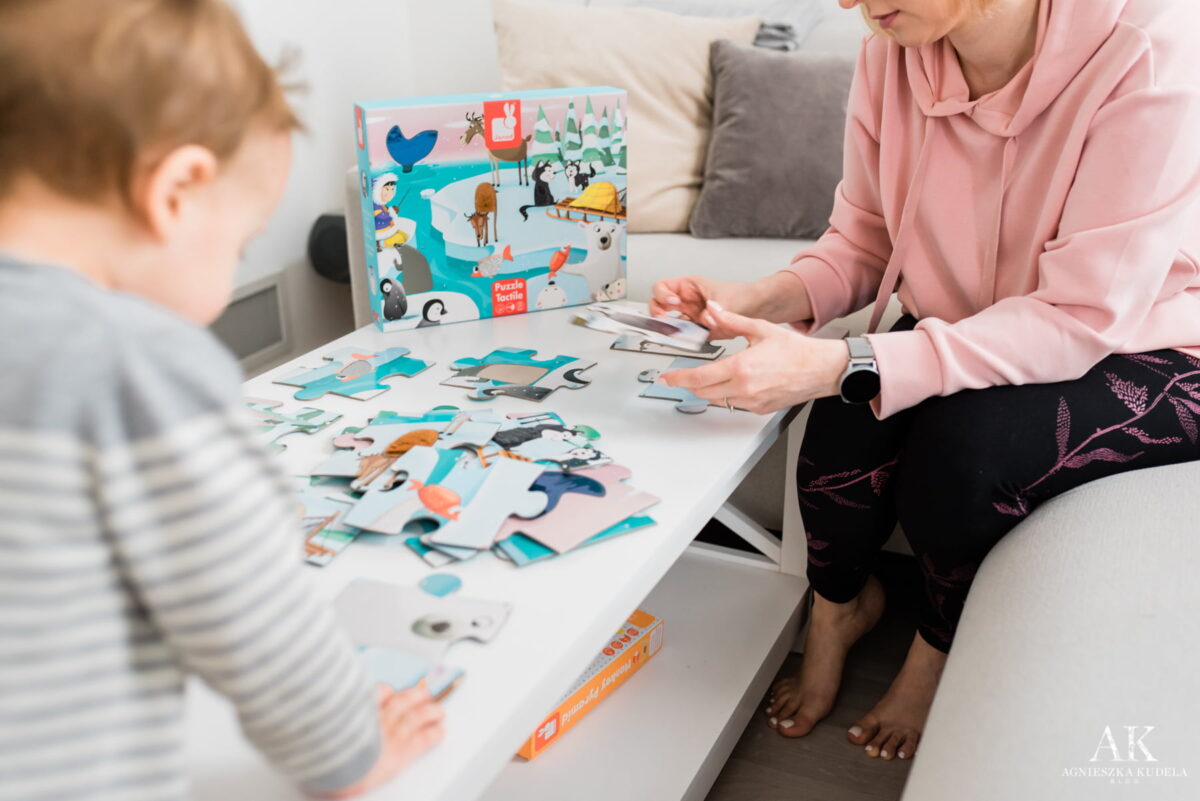 And what a joy when you manage to form the last element!
Monkey Pyramid skill game
It may seem that the three-year-old is still too small to play an arcade game, but with us gra Monkey's pyramid it worked perfectly. It is a great toy not only for children, but also for the whole family - to practice dexterity and concentration. In the box you will find 15 colorful wooden monkeys. Your task is to alternate the monkeys to build the highest possible structure. The loser after which the monkey tower falls. You can also make dominoes from monkeys!
Flashcards for learning to count
Mikołaj is already able to count well, but Maks is still trying to learn this difficult art. We help him through play - we focused on colors flashcards for learning to count. The set contains 26 double-sided cards, attached to a plastic ring (they can of course be unzipped). These are the simplest flashcards: each of the cards on one side has a number from 1 to 20, and on the other a picture of objects or people in the corresponding number. The remaining 6 cards contain simple math problems with answers.
This is a very useful toy for a XNUMX-year-old who needs to make the content and form of learning materials appropriate to his age, stimulate curiosity and encourage him to look for answers.
Thanks to the compact form of flashcards, we can always take them with us.
Balancing board
Although I should present it in words phenomenal balancing board. I am impressed by the multitude of games that came to my Sons' mind when they saw the board. They use it in many different ways:
1. sliding down a board based on a bed and a sofa
2. balance on a standing board
3. balance sitting on the board
4. bounce the ball on the board
5. they used it to launch a toy car launcher
6. they made it a bridge over the moat in the sandbox
... and we've only had it for 2 days! I don't know what other games children will come up with, because there will definitely be many of them!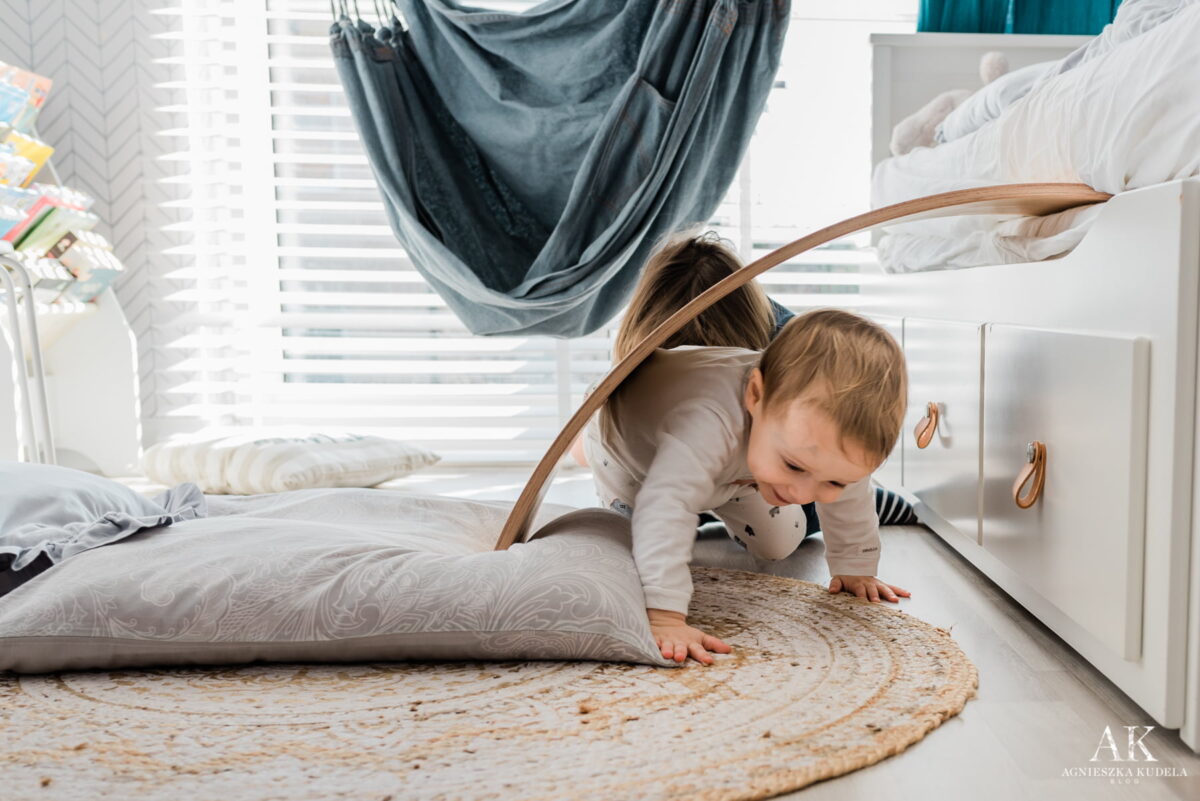 Little doctor's set
Fantastic fun! Little doctor's set from Lilliputiens is a soft red bag with an embroidered ambulance application and 8 useful accessories necessary for specialist medical care 😉 The set includes not only a doctor's apron with a badge, a plush stethoscope and a thermometer, a cardboard syringe, Velcro-fastened dressings or a health book, but even a patient : little Rabbit.
And when the rabbit has recovered, you can test, Brother, Mum and Dad 🙂
These are our hits. And what would you add to this list?