Publikacja:
31.03.2019
| Aktualizacja:
01.12.2023
My capsule wardrobe for spring 2019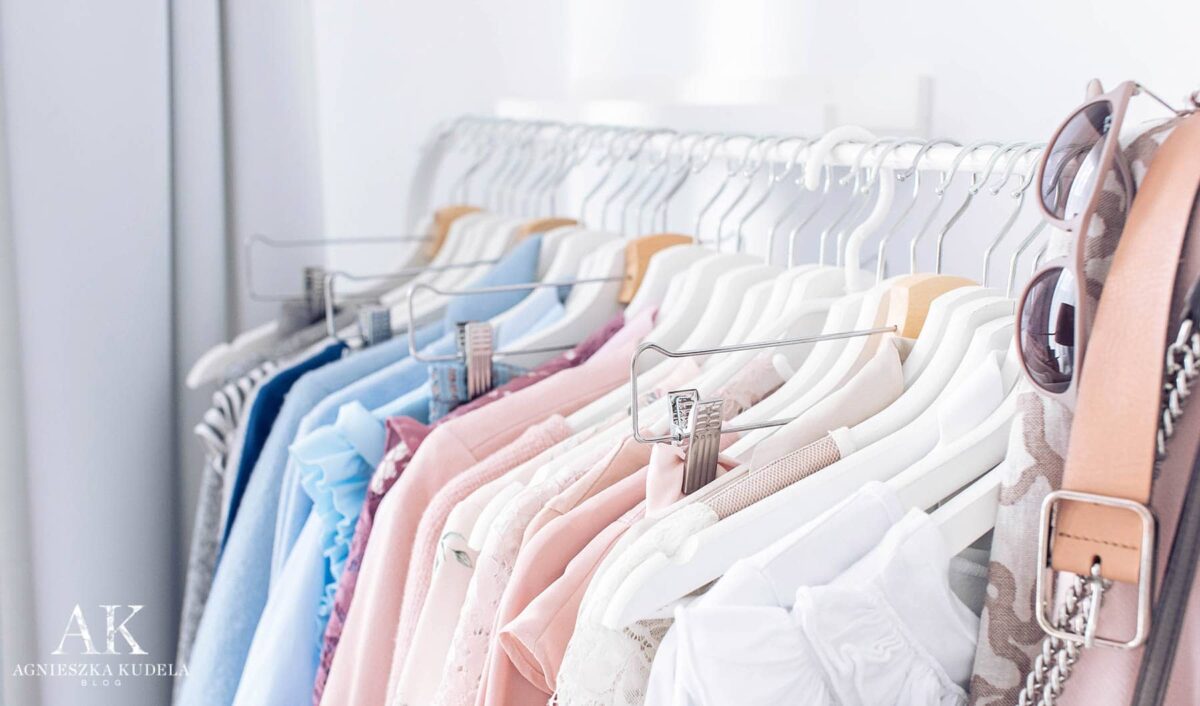 I love to simplify my life, so I decided to prepare my wardrobe for spring and treat my wardrobe like … a clothes store and choose only those that I love, in which I feel best, they are nice, fresh, undamaged and keep their cut to shorten maximum time that I make a decision every morning – what to wear today. On this basis, I created spring capsule wardrobe, full of pearls themselves, but closing in 30 pieces. View what's in it i what principles followed my organization.

What is a capsule wardrobe?
The idea of ​​a capsule wardrobe is to have in it timeless, classic, high-quality clothes that fit together so that they can be mixed and combined almost freely to allow us to create many styles for every occasion. It is said that if we do it properly, we should do only 30 … clothes, not including extras.
Of course, the number of clothes really is the most conventional thing when creating a capsule wardrobe, the most important thing is that it fulfills its task, and in the background is usually whether we have 20 or 50.
For me, a capsule wardrobe is an attempt to invite minimalism, save time and money to the next zone of my life.
Where did the idea for a capsule wardrobe come from?
I have been trying to introduce minimalism in my home and in my wardrobe for three years, but I was inspired to create my first capsule wardrobe by spring and the words of Facebook's founder – Mark Zuckerberg, in which he thinks that the daily decisions "what to wear" would take him precious energy that he can use in a more creative way.
In addition, I noticed that the more decisions I have to make during the day, the less my commitment to making them decreases, and when the first decision "what to wear" on the day turned out to be wrong, it was able to "crush me" throughout the day, lowering my mood … when it turned out that I put on a blouse for an important meeting, which after the next washing has lost its shape so much that it does not make a good impression at all.
In addition, I do not like this stress when I open a wardrobe full of clothes and literally "I have nothing to wear", when it often turns out that the first three elements taken out of it are in the wrong size, fashion or not my color at all. I've been "getting rid" of clothes from my wardrobe intensively for a year and a half, but still sentiments and the feeling that I had to spend all the money on them prevent me from really drastic cleanup.
How much time do women spend in their lives choosing clothes?
Apparently 16 minutes a day, which is an average of 287 days of life! You do not believe? This average also took into account the fact that we have a tendency to change every day: work clothes, after work clothes, cooking clothes, cleaning clothes, gym clothes … I'm sure my average is much lower today, but why would not make your life even more?
Quality versus quantity = confidence
An elegant restaurant with sophisticated dishes that fit on one page of the menu or fast food with several hundred dishes whose freshness and quality of ingredients you are usually concerned about?
Probably each of us went through the stage of "choking" with fashion, sales and promotions – to this day I remember when suddenly the clothing market in Poland changed so that without promotion I could suddenly buy 3 blouses for the price of one … of course, at first I did not notice the difference in quality or in fabrics, just choked with my shopping possibilities, I went crazy filling my wardrobe with… low-quality clothes, which often turned out to be almost all at once, and my heart ached that my favorite blouse was more suitable for washing with the eye than for work.
Now in my wardrobe most of the clothes are of high quality, they are beautifully cut, made of natural fabrics, but take it easy, I didn't throw away my favorite old blouse just because it is made of polyester, since it still looks great – and I remember spraying it with an antistatic spray before going out .
Number of clothes in a capsule wardrobe
The number of clothes in my capsule wardrobe – apart from accessories, including shoes and specialist clothing, such as sports clothes – but with outerwear, I estimated at 30, and finally I got 31 pieces – only jackets, I'm not sure, but I preferred to have "spare".
In my wardrobe there are clothes for spending free time after work, with children on the playground or on a walk, as well as clothes for work, cinema or theater.
30 pieces for some it will not be enough, for others it will be a lot – there are no hard and fast rules, I think that after the first month I will know if this amount is right for me, after the first days I am delighted with it! Today, dressing for children with the city for the day, I knew immediately that I would reach for gray jeans (no dirt can be seen) and a blue sweater, and I would combine them with the only flat shoes that are suitable for walking on sandy, rural roads.
In my number of 31 pieces, there are no shoes, jewelry, glasses, scarves, hats or handbags, there are also no specialist clothing such as sports, raincoats or galoshes, or the "at home" or "cleaning", because here I always take the first sweatpants in advance and it does not stress me at all.
colors
I decided to approach composing the colors of my wardrobe as to … preparing a color palette for the wedding of the Bride and Groom – after all, I am a Wedding Consultant and matching colors to the palette is my specialty. The base colors I chose are white and gray (there is nothing black in my spring capsule wardrobe), and the main colors are (of course) my favorite, rather dim pink and blue – from light blue to navy blue. All colors match and I can mix them freely. any metallic accessories in my closet they are silver.
Invoices and patterns in a capsule wardrobe
To increase the chance that most of the clothes will match, there are only two designs in my wardrobe – flowers (once) and stripes (once) and lace (three times).
In addition, there is a lot in my closet valances – I love them, they add a bit of girly charm to simple stylizations, which I like so much.
I'll show you my wardrobe in the spring, and if you want to create your capsule wardrobe, but you need even more support, take a look on Domodi – you will find here a 10-day minimalist challenge, a shopping guide and 3 steps to create your wardrobe, and many interesting facts about how we women shop and what we have in the wardrobe.
Capsule wardrobe organization
I did not decide to throw away the other clothes (the more that I like most of them too), so for the purposes of my first adventure with a capsule wardrobe, for which I gave myself a month, I put a hanger on the bedroom, where I hung my 31 clothes, I have them all the time in view and I hope to look into the main wardrobe as little as possible.
paste
What was in my spring capsule wardrobe?
3 pair of pants
4 sweaters
2 coats
3 shirts
8 blouses
1 jacket
4 skirts
6 dresses
6 dresses
Dresses are not the best friends of a capsule wardrobe – from 6 dresses I can only create 6 outfits, if I replaced them with 3 blouses and 3 skirts, I could have as many as 9 different combinations, i.e. half more.
But the dress has a completely different advantage for me – I do not have to "combine" what to combine with what, I laugh that someone has already come up with this for me and I save a lot of time on dressing and limit the number of decisions to make and I know I look good.
Among my dresses there are classics by Marie Zelie – blue business clothes and this one charming in flowersin which I feel like a second skin. I am wearing a gift – only someone who knows me very well could give me such a beautiful one, perfectly fitting a powder pink dress with frills on the shoulders – and it comes from the Zezuzulla store and it's great to welcome spring there. My next choices are lace – light pink dresson which we talk with Wojtek "star"- I feel more or less in it – it is perfect for all receptions, parties, and also works in the daily work of a Wedding Planner and perfectly reflects my character. Another this beige dress Manifiq, thanks to which I made beige boots with a year-round creation, and the last one is mine the most elegant dress dark, dusty pink over the knee – I had no doubt that in the Valentine's Day to the theater has just bet it, like on Christmas Eve, or TV to work – again, perfectly captures me like a second skin.
Trousers
I go to work almost only in dresses – I feel feminine, light and airy in them I leave my pants on afternoons and weekends with childrenor on such days at work, when I have a lot to wear or run around the citybut these are not official meetings, so the three pairs of pants I chose are jeans: white – great for spring, summer and early autumn, gray – perfect for every day and literally with everything, and classic "jeans". All my jeans are from Zara.
Skirts
She was here both patterned white-blue skirt from Marie Zelie, pale pink skirt with a circle Nife. characterful skirt "put on" from Beksy and elegant, but also sensual, blue openwork skirt with a cappuccino lining from Manifiq.
Shirts
Skirt or pants when combined with a shirt, they immediately take on a more official character, that's why they found themselves in my capsule closet three high-quality, cotton, richly woven shirts of Polish brands Lambert and Wólczanka in three colors that perfectly match my wardrobe. I always buy them during the "2 for the price of one" promotions organized several times a year – so if you are looking for a high-quality shirt, also one with cufflinks in the women's version, wait until such a promotion is made. I love the fact that they have covered buttons, which additionally have much more densely sewn buttons at the height of the bust – no more smiling necklinewho can take away confidence at a meeting of almost every business woman.
blouses
Did I say I like valances? The blouses that I chose for the capsule wardrobe are navy, cotton, basic blouse Marie Zelie (not in the photo) – perfect for work skirt and jogging pants on the playground, striped blouse with frills on the shoulders – absolutely my favorite from Manifiq, a blue frill sleeveless blouse from the Stylove Clothes store, powder pink blouse with Marie Zelie, elegant blouse with frills on the shoulders from Asos, again white basic blouse with Marie Zelie and white blouse with frills from Manifiq.
To be honest it is in my capsule wardrobe that I am most afraid about the number of shirts.
Sweaters
Just in spring, when most of the day we can walk without a jacket, but the short sleeve is still too cold. I chose for myself blue cotton v-neck sweater Brookshire – I love it, because for a sweater it highlights my waist quite well, which, unfortunately, cannot be said about pastel-pink sweater with wool from the Laurella store – bites a bit, but has a V-neck, good composition and wears great, although for my figure – just like the last one gray sweater from Femestage, but this one is so cute that I love to run around the city in it, just like in the penultimate frill sweaterI bought in Nife despite the poor composition – but for this frill and I wear it with sympathy. I still miss a pearl in a positive color.
Jacket
The jacket is something that is missing in my wardrobe, so I found in it the one that I like the most (although still medium), but it's the best one I have, unfortunately I am not sure if I will wear it at all, so a new jacket for replacement is on my shopping list.
Coats
I chose classic, beige trench coat with blue lining – perfect for work and everyday use as well blue coat, which, unfortunately, does not emphasize my waist, I love to wear, and maybe I will give it to a dressmaker to remake and adapt to my figure, whose biggest advantage is the waist.
This is the list of my 31 clothes in the minimalist wardrobe, which I created for myself this spring. See what additions I have chosen for her:
Capsule wardrobe shoes
It is impossible to hide – I love it high-heeled shoesand that I wear three pairs every dayand not one makes you wear out more slowlyand I always have clean and tidy shoes on my shelf, even if I came back late the day before and did not manage to clean the shoes I took off. Thanks to the fact that I have pink and blue shoes in my wardrobe – I can easily create extremely elegant tone-in-tone stylizations, and when I feel like a colorful mix, I can mix them freely. If I were to limit myself to only one heel, it would obviously be beige heels. There are no black heels in my spring wardrobe, which may seem the most classic, but as you can see to my color palette they would not be the best. Pink and blue high heels are Kazar, and beige Ryłko.
Beige ballerinas Femestage usually wear pants – unless, after returning from work really in a hurry and do not have time to change dress pants even though it change my shoes with high heels on the flat. Navy ballerinas this is a novelty in my wardrobe – I bought navy blue shoes by Monika Kamińska only because I was afraid that the suede ones in the pastel pink color would be still dirty, so I took navy blue as a precaution. Tied shoes Femestage company is my option for a playground, a walk or a trip outside the city – unless you need galoshes, but I have already agreed that these are specialist shoes for me ;-).
Sunglasses and stripes in a capsule wardrobe
I have sunglasses at all only one – high-quality, beige colorthat fits perfectly with all my stylizations. This is the Erika model from Ray Ban. I only have in the capsule closet one stripe, beige, just like beige stilettos, it goes with almost anything, although for the second time I would choose one in gray.
Handbags
Except for one – black with a gold accessory – it's just all the bags I wear at all and I have – apart from two more clutch bags, but one is already quite damaged (this is my first leather Zuzia Górska handbag and has a sentimental value for me), and I put on the second one only for the Gala of the Polish Association of Wedding Consultants once a year. The handbags that I wear every day are gray – the one with the fringe is a very durable one for me every day, the quilted one is much more delicate and I usually put it on for larger occasions, and the blue one is a cool color refreshment. Behind the shoes is my laptop bag – also gray, because it works perfectly all year round and it's been the third year. I could easily limit myself to only two here – the one with a fringe and the one for a laptopand that I don't have to, there are four.
I also really like 2w1 handbagswhich with one hand move from a cross body bag to shoulder bags – this solution was probably invented by some minimalist 
Scarves
I have three scarves – pink, gray (not in the picture) and beige – patterned.
shopping list
At the moment I think that only a nice jacket and a nice sweater are missing in my wardrobe, and unfortunately – I don't miss the other clothes, so I'm not getting ready for any big shopping frenzy on the occasion of the arrival of spring.
I am very curious what the first month of using such a capsule wardrobe will show, which I will definitely share with you.
As a fan of dresses, I admit that as a reward for my completed challenge # Nie Waiting I act I will buy one dress, which will fill my spring wardrobe, and if – like a year ago – a beautiful summer arrives in Poland at the end of April, I will also "launch" a few pieces of summer clothing, because in the end the "minimalist wardrobe" challenge is to serve me, not me.
In a short time beige high heels and ballerinas will deserve a replacement for a newer model, because especially the first ones have not one season behind them.
But the truth is that I don't have much reason to enter the mall for anything other than food or household chemistry. Amazing feeling!
I am very curious how many clothes do you have in your wardrobe and do you feel that you have what to wear?