Publication:
04.10.2018
| Update:
27.05.2019
Checkered pencil skirt in 5 styles - fall fashion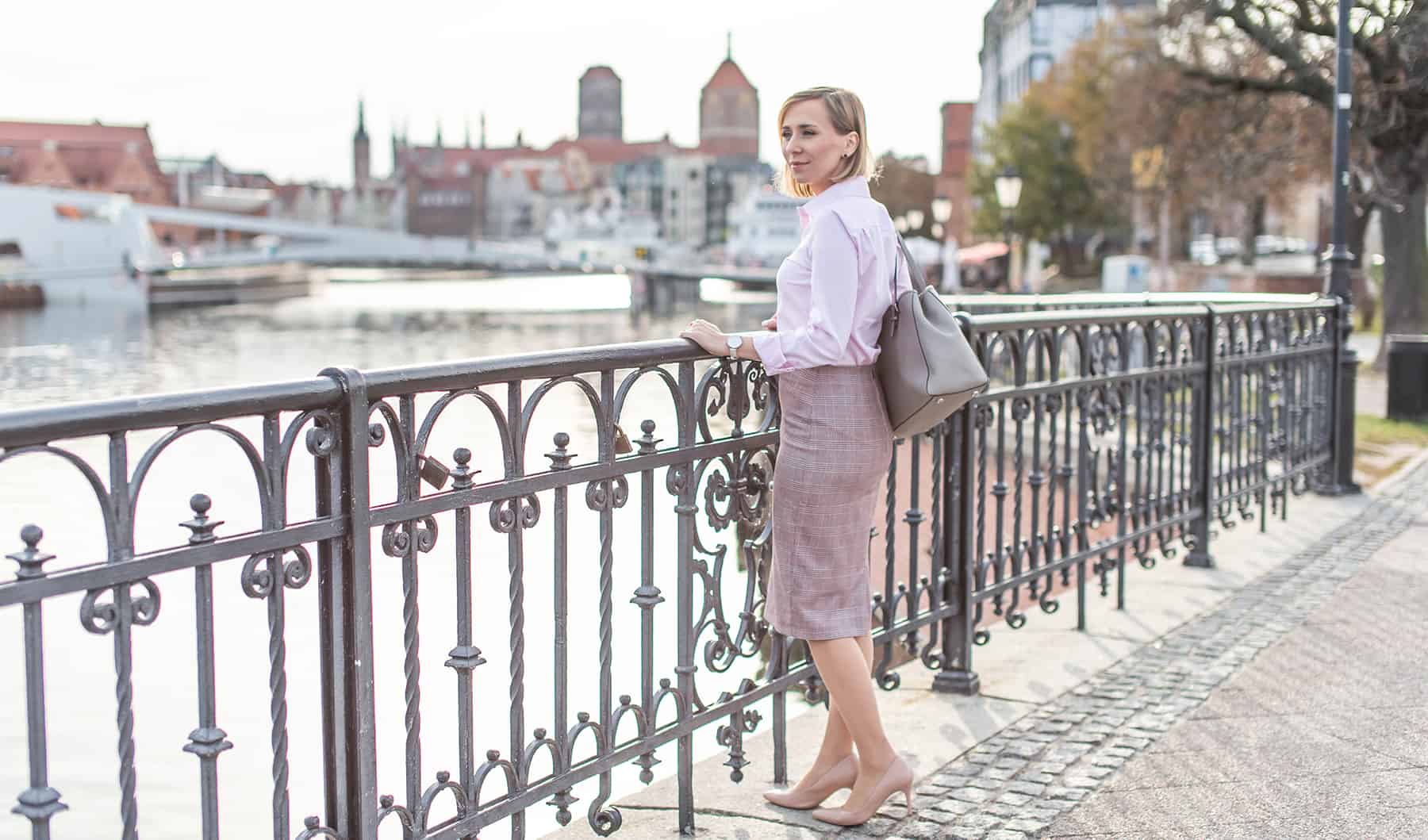 When I do not have time to experiment in my wardrobe, I like to reach for proven solutions - today I will show you my autumn stylizations in checkered skirts.
A pencil skirt is a classic business outfit. In order not to be too boring, but still elegant, I chose plaid skirts, which, apart from the color, differ basically - the cut.
Vintage skirt
Found out in lumpex several years ago pencil skirt with high waisted in a gray checkered pattern - I wonder how old she may be!
It came to my wardrobe again from a box full of clothes that were waiting for me in the attic, signed "for better times", i.e. in my case - the thinner ones. I was hoping that I would use its perfect cut someday, and who knows, maybe I will sew another similar pencil skirt with a lining and perfect cut on its basis at the dressmaker.
Ta pencil skirt with high waisted beautifully highlights the waist, then expands - forgiving the imperfections of our figure below. It's a tulip-like cut, thanks to which it gives us freedom all day long - I will never think about imprinting underwear, a shirt or a protruding belly in it, because the looser cut under the waist leaves them invisible to the eye.
I put together a checkered pencil skirt with gray heels from full-grain leather and white, classic, high-quality fitted shirt with covered buttons. It's a set in which I always feel professional: perfect for business occasions where I don't know the other party, and it promises to be quite official. although every day I prefer a slightly looser outfit to work, I like this set just as much.
A large bag allows me to take a laptop, notebook, and even food in a box or coffee in a thermal mug, a wool coat it allows me to wrap myself in the warmth in colder days. Soon I will complement it with a beautiful, warm scarf and gloves.
Pencil skirt over the knee in a pink checkered pattern
This cut is ruthless for all curves, so it's not my favorite. I paid attention to her for ... the pink color, I absolutely wanted to match something tone in tone with my pink shirt. However, I also love it for the knee length and the fact that despite the color it still has a business character. Because I don't have to write about the fact that she is very feminine. I choose fleshy high heels and a large gray handbag in which I carry my laptop for meetings.
If you are wondering if a checkered skirt is an idea for you, I have prepared 3 sets based on the checkered pencil skirt, perfectly matching the business image of autumn. I was based on shopping in the store Peek & Cloppenburg, which recently is also available in an online version, and which I like for the incredible ease of finding clothes for any occasion due to the fact that each category of clothing is divided according to the occasion.
For example:
skirts are divided into: knee-length skirts, denim skirts, maxi skirts, midi skirts, mini skirts, pencil skirts, pleated skirts,
dresses are divided into: business dresses, casual dresses, knitted dresses, party dresses, cocktail dresses, maxi dresses, strapped dresses, pencil dresses, evening dresses, ball gowns and wedding dresses.
When you add a color selection or price range to it, shopping becomes easy - it's hard to persuade me to go shopping in a mall.
1 styling
Beige handbag | Pink shirt with covered buttons | Checkered pencil skirt | Shoes | Caramel coat
I combined the beige checked skirt with a pink shirt, which refers to one of the colors on the skirt and thus complements it perfectly. To this I added beige and gray velor heels with a low 7 cm heel and a beige handbag - together they create a light and pleasant, but very business look, complemented by a noble woolen coat with an admixture of polyamide and cashmere. Just right if I want to express my feminine, individual style, but still showing that I stick to the rules and that I care.
2 styling
Gray purse | White women's shirt with covered buttons | Vichy checkered skirt | Black pumps | 100% wool coat
A vichy checkered skirt in my favorite length at the knee or gently over the knee, juxtaposed with a white shirt with covered buttons, complemented with black high heels, broken against the background of a darker wool coat light gray purse, in which I would fit such business necessities as a calendar or planner. Classically, but with style.
3 styling
Blue shirt with covered buttons | Navy plaid skirt | Camel wool coat with cashmere | Beige stilettos | Burgundy purse
As a base, I chose a navy blue pencil skirt on a petticoat, which despite the fact that it is in a cold color, the pattern of a large check makes it very warm. I complemented it with a blue shirt with covered buttons and warmed up with beige shoes and a brown handbag, which will fit perfectly with a simple camel coat - this one is 70% wool, with an admixture of polyamide and cashmere, and has an extremely timeless character, and will warm me even then, when I forget my scarf.
What is the right length of coat?
When choosing a coat for every styling - everyday, evening or business, I remember that it should not be shorter than a dress or skirt by more than 2 centimeters. This is why I usually buy knee-length coats so they go well with all my dresses and skirts, except of course the ground-length evening dress that I still dream of.
Which stylization is closest to you?