With a smile on your face, you double your potential
This Japanese proverb is not only wise words - see my 10 proofs of how you can easily double your capabilities and most importantly - double them in our children from an early age by implementing good and healthy habits.
How to effectively make a child happily start brushing their teeth every day?
Today I would like to tell you about habits - I am sure that this short way will be useful not only for our children, but also for us - adults - but on completely different topics.
Habit is such an "automaton" - once developed, it works without our conscious effort, because it becomes a natural part of our life - like breathing or washing hands after using the toilet - we don't have to think about it anymore, it becomes a natural part of our lives. A habit is a great help - it makes we don't have to fight with each other or with children to do something - that's why if we develop a habit of brushing teeth in a child, it will become part of our children's everyday life, and in their - and our - lives, everyday fights will end - not only those with a toothbrush in hand.
How do habits work and what are they?
Our mind does everything to minimize the effort - the mental energy devoted to repetitive behavior that we carry out every day. A habit is a regularly repeated activity that does not require our conscious commitment.
Therefore, the daily struggle for brushing teeth will end as soon as our child develops - with our help, of course - a habit of brushing his teeth - you will never have to motivate your child to brush his teeth again.
As a curiosity, let me tell you that a habit is also a habitual thought or emotion - therefore, the habit is able to change even a hardened pessimist into an optimist.
How long does it take to get into the habit?
Developing a habit continues ... from 18 to 254 days - on average 66 days. The most important is your commitment to developing habits in children, and the first 5 days are considered the most difficult.
5 basic rules for developing habits:
1. Only one habit at a time
In the case of important habits, it is important to knead at the beginning only one habit at a time - the point is that the child's full attention should be focused on developing this habit. The more we get involved at the start - the greater the chance of making it.
2. On the wave of motivation
Not only children but also adults, usually it's easiest to start on a wave of motivation - and it cannot be denied that for many children it is wave and energy can be the joy of having a new toothbrush, suited to his age.
However, motivation has the fact that it is a sine wave - it increases and decreases once, so we will only maintain a new habit when we have a good lossEGIE. The key to an effective habit is that regardless of whether after a few days or weeks our child is still motivated, he will be brushing his teeth everyday. Ultimately, a good habit will allow your child to act regardless of whether he is motivated or not - so be sure to read the next 3 points to increase the chances of your success.
I remember when with the Younger Son it was much easier to get into the habit of washing his teeth - he was just imitating his authority - his older brother. Therefore, it is a great idea for you to join your child while brushing the teeth, at least at the stage of developing the habit - it will surely provide you with great fun, and it will allow your child to follow an example from you - It is known for a long time that children learn best by not listening but imitating.
Remember that the technique of brushing your teeth with a manual toothbrush and an electric toothbrush is completely different - so if you have an electric toothbrush, your child will imitate your movements that will not be effective with a manual toothbrush - and vice versa. That's why our Maks is waiting for his electric toothbrush - what kind? I'll tell you below.
3. A small habit
You can start brushing your child's teeth even with 15 seconds of brushing the teeth - not the duration of the habit at the beginning is the key, but its repeatability. Once you develop a habit, slowly, gradually - almost imperceptibly - you will increase the time of brushing your teeth up to 2 minutes - recommended by dentists.
The point is to the new habit was initially as easy as possible and the motivation as high as possible - thanks to this, we increase the chance of developing this habit.
Idea, how much easier it would be for you to get into the habit of doing 5 squats after waking up than 150? However, if you get into the habit of doing 5 squats a day, it would be much easier for you to increase the number of squats to 6, 10, 20, 50… 150 squats. Therefore, getting into the habit of brushing your teeth for 15 seconds a day has a much greater chance of success than if you started right away with 120 seconds or 2 minutes and… both of you got discouraged.
So go ahead, get in the habit of brushing your teeth first, and then add the habit of brushing your teeth early in the morning.
And this way to develop new habits be sure to try on yourself!
4. Stimulus
In order not to forget about developing a new habit, it is worth it find an "anchor" for him during the day - another activity that the child habitually does every day.
In our country, the first anchor for developing the habit of brushing teeth was the evening bath - our children bathe in the bathtub every evening (thanks to this, it was easier for us to develop the habit of falling asleep, because we also anchored it while bathing). Thanks to this - by embedding a new habit under the one you already have - we reduce the likelihood of forgetting a habitwhen it is still poorly educated and we additionally strengthen it.
If the evening bath in your home is not so regular, you can try to add the habit of washing the teeth, for example, to dinner - the child always goes to wash the teeth after dinner.
5. Celebration!
It is important for the child to appreciate himself after brushing his teeth every day - he can always clap himself, say his favorite rhyme - so-called gesture of success. It is important for the child to learn to reward himself, and not only to be rewarded by us - thanks to this, his gesture of success will be solid and dependent on the child himself, and not on external factors.
Here, the celebration function is performed by a family, brush, proprietary counting sheet, which you can make yourself - although it is known that it is easier in a pile!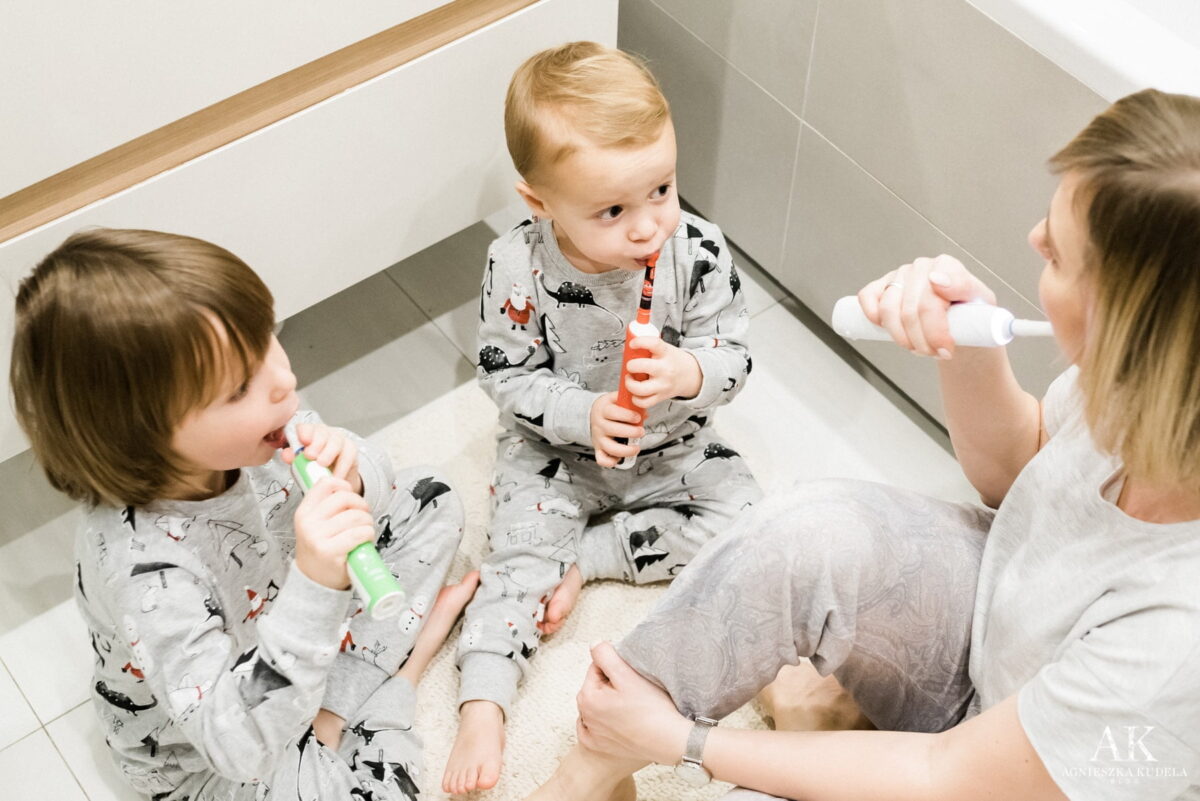 Use the power of small habits
During the first 14 days, teach your child to brush their teeth for 15 seconds, and only after the habit is established - increase its intensity.
When should a child start brushing their teeth?
I remember how surprised I was when it turned out from 1 clove we should introduce brushing teeth in children for ritual hygiene. I remember how difficult it was that my children did not even sit during this period! Fortunately, it turned out that the children's toothbrush - under the care of an adult - is a great tool to alleviate teasing symptoms related to teething, and this form of fun made it easier for us to smuggle the brush routine in everyday life.
How to choose a toothbrush?
Each toothbrush should be adapted both to the child's age, and how many teeth he has and whether they are permanent or milk teeth.
Toothbrush selection guide
0-2 years
At this age it is recommended to children manual toothbrushes, e.g "Oral-B Baby"Toothbrush with the character of Winnie the Pooh - has a soft head that protects delicate gums and soft fibers, and a non-slip handle to protect the gums and gently clean.
Recommending a manual toothbrush to start with has three benefits. First of all, brushing your teeth with a manual toothbrush supports the child's manual developmentand secondly, a manual brush is considered safer because does not contain small parts or batteriesand thirdly often the child is allowed easier to tame oral hygiene.
However - as I have already mentioned about the child's weaker manual skills - it is also connected with the fact that a child at this age can treat brushing teeth as a game - of course only under the supervision of the guardian, and the parent is responsible for their proper cleaning.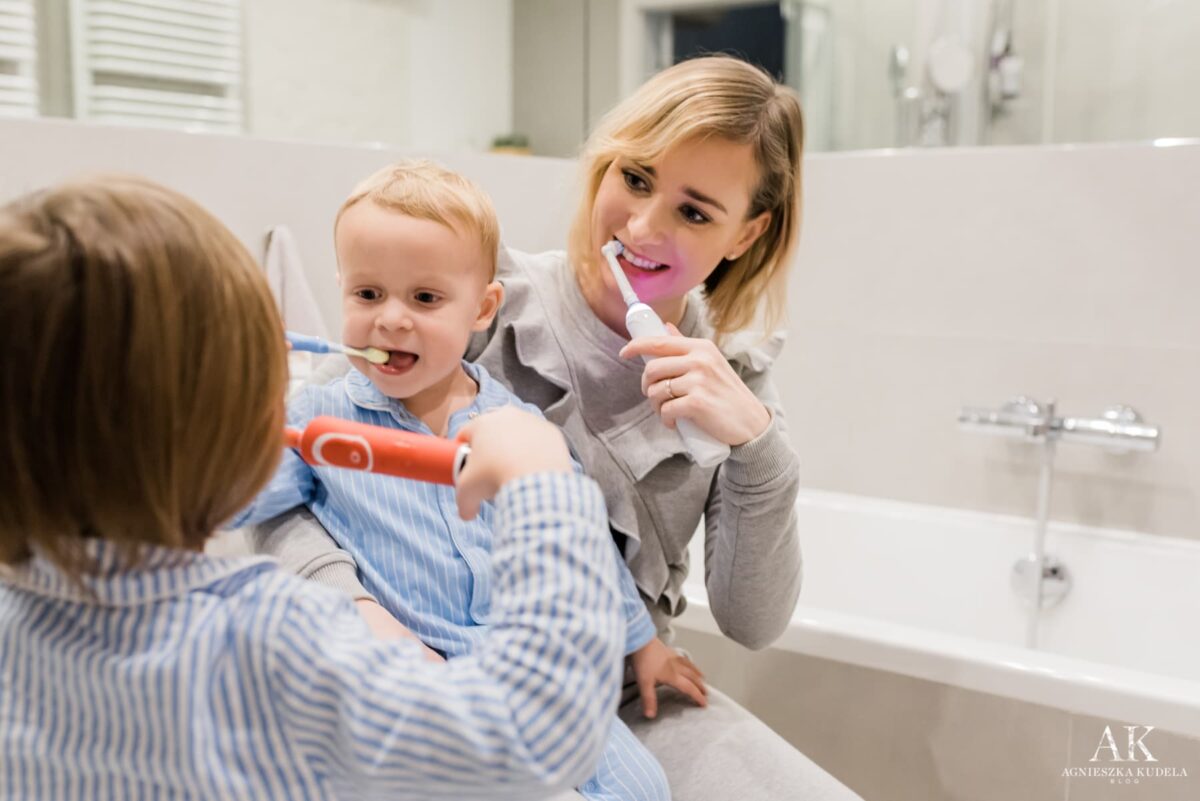 While our toddler has a few teeth, their daily hygiene should not take too much time, but with the increase in the number of teeth, we need to show increasing accuracy, diligence and precision. Because an electric toothbrush with a round head can help us here, which, although intended for a child aged 3 to 6, can be successfully used by younger children if it is helped by parents who are responsible for ensuring the child's safety. It will allow us to significantly reduce the time for cleaning teeth and increase cleaning efficiency. How?
The simplest electric brush for brushing teeth - for example, the "Oral-B Kids" model for children or the "Oral-B Vitality" model for adults - 7600 oscillating-rotational movements 2D per minute, while an adult man brushing his teeth carries a maximum of 600. A colossal difference - right?
Additionally, brushing your teeth with an electric toothbrush is much easier - no more scrubbing and weaker effects - enough now slowly guide the brush tip from tooth to tooth, dedicating a few seconds to each tooth.
3-5 years
At this age, you can also offer your child a brush, besides manual brushing "Oral-B Kids" with one of the favorite motifs from fairy tales - such as Frozen, Toy Story, Cars or Star Wars. You can decide on electric versionthat performs gentle 2D oscillation-rotation movementand its head is correspondingly smaller than those for adults, with exceptionally soft fibers - perfect for still sensitive gums, and the built-in timer helps in building the habit of brushing teeth, and then in developing it - the brush lets you know every 30 seconds.
For children who need extra motivation to convince themselves to brush their teeth, the Oral-B team has come out against and designed a special free application for brushing teeth for children Disney Magic Timer helping in learning and extending the habit of brushing teeth - which accompanies the child while washing the teeth for 2 minutes. Studies show that up to 90% of children brush their teeth longer using this application. [Oral-B Kids Brushing Study]
All you need to do is download the free application, scan the character from the brush and during 1 or 2 minutes (the time can be set) of brushing the teeth, a picture will appear in the application - 100% visible after this time, at the end the child additionally receives a prize - the screen shows a picture with favorite character from the fairy tale, and in addition, stickers are collected for washing the teeth in a virtual album.
6+ years
When the first permanent teeth appear, it is worth changing the brush head to one that has middle fibers longer than the outer ones - thanks to this structure it will help the child to thoroughly clean the first permanent teeth with characteristic furrowswhich children find difficult to reach, and in which caries develops first.
Electric toothbrush "Oral-B Junior" it has a head with central bristles longer than the outer ones - thanks to that much better allows children to brush their first permanent teeththat have characteristic grooves on the surface.
Compared to the Kids model performs a 3D motion - a pulsating motion has been added to the oscillating and rotating motion, thanks to which the brush fibers penetrate deeper into hard-to-reach places, the number of which increases with the number of permanent teeth.
This brush version "Oral-B Junior Smart" has additionally pressure sensorthat allows you to protect delicate gums as well FunZone add-on in the Oral-B applicationthat transmits information (Bluetooth) to the application in real time and helps to improve your tooth brushing habits.
On the occasion of the first two permanent teeth, Mikołaj received a new toothbrush - for older kids - just "Oral-B Junior", and Maksiu received the Kids with a new head.
For teenagers
Toothbrush "Oral-B Teen"It is in addition to 3D movement as well 3 modes of operation: daily cleaning, gentle cleaning and bleaching. Works great with orthodontic appliances thanks to the replaceable Ortho tips - dedicated to orthodontic braces and Sensi Ultra Thin.
Using Bluetooth technology, this brush - like the Junior Smart version - it connects with the Oral-B application and can be helpful in developing good dental brushing habits.
And what adult brush?
I still remember my first electric toothbrushI got for Christmas. I was then in the 8th grade of primary school and I was wearing permanent braces. Although it was a 2D toothbrush - the difference was so colossal that I never returned to the manual brush for brushing your teeth.

Today I know perfectly that a smile doubles our possibilities, and I will give you at least 10 reasons here:
1. Other people feel better surrounded by people smilingbecause it increases the chances that we will have a good time.
2. We tend to reflect the emotions of others - that's why the company of a smiling person makes it we smile more often.
3. A smile like nothing else allows us to do good first impression and arouse sympathy for us.
4. A smile helps to arouse trust.
5. A smile makes you we look more competent and confident - research shows that professionals smiling in photos are considered more competent and self-confident and more willingly employed by employers and selected by clients.
6. We are able to smile feel even on the phone!
7. Laughter has a social function - it helps make bonds.
8. Laughter emits in our brain happiness hormones - endorphins. A smile is a curve that straightens everything 🙂
9. Smile it best anti-stress agent! A smile is a magical grimace - just smile to feel better, feel happiness inside us - smiling - even falsely - in our brain we cause the release of happiness hormones that make our day and our whole life better.
You do not believe? This is a brilliant exercise for you. Put a pencil between your teeth, which will force a smile-like grimace - research shows that you will then use exactly the same muscles that you use when smiling and it does not matter whether the smile is sincere or false and you will be happier. It's such a great way to make your mood better. It works?
10. People are great at distinguishing between a real smile and a forced one - so force a smile when you want to feel better yourself, but every day try to become simply a more positive and smiling person, and exercising - even a fake smile - will help you with that, as it will help you flex these muscles. It is also worth having at hand list of things and people that you only need to think about and truly smile. It will be very helpful before the meetings you care about.
To smile sincerely and without complexes, I like to know that I have a well-groomed and healthy smile.
Because every day I use an electric toothbrush with a round head - today, at least twice a day, I use the Oral-B Genius X 2N Rose Gold toothbrush, which in addition to 20000D motion is equipped with motion sensors and is also supported by artificial intelligence, which recognizes how I brush my teeth and shows in the application whether it is correctly and accurately I brushed all surfaces of the teeth.
In addition, this brush has a SmartRing 360 ring a modern pressure sensor that automatically slows down when I brush my teeth too much. What's more, the brush works for over 2 weeks after one charge.
This brush has up to 6 brushing modes, including gum care, gentle cleaning, whitening and tongue cleaning.
Do you like useful gadgets? This the brush case charges the brush and the phone at the same timethanks to the USB port.
One brush for the whole family?
It is possible! Although, as you can see, we use toothbrushes that match our age and brush our teeth "in a group", for a trip when we need to save space, we only pack the tips and one brush - just Genius - its feather mode corresponds to the mode of a children's toothbrush from the age of 3.
Family is strength
In our house nothing works as well as spending time together - and I do not mean only having fun or meals together, but also bathing or brushing teeth. These are rituals that we usually perform with the whole family - when Mikołaj and Maksio are bathing in the bathtub, Mom and Dad are bustling around the bathroom, preparing towels, pajamas and, of course, brushing their teeth together. Initially, we started by brushing our teeth with Mom or Dad, which was very helpful at the stage of developing a habit, today it is not necessary, although very helpful, especially when we are working on extending the time of brushing children's teeth.
How to teach a child to brush their teeth correctly?
It was difficult for our children to understand why the cloves had to be kept for so long. Therefore - as part of a family adventure with parents - Mikołaj and I went to the dental hygienist to talk about the proper hygiene of small teeth based on the power of authorities.
Teaching children how to brush their teeth
The first step was learning how to wash the teeth on the dragon - but he has a lot of teeth! Mikołaj saw himself how long it took to massage each tooth on each side with a brush for a moment - he was shocked! In the first stage, Mikołaj learned to wash his teeth under the guidance of a dental hygienist - Mrs. Róża was irreplaceable!
The second step was washing dragon teeth by yourself.
To finally move on to learning how to clean your own teeth. But what to wash, like teeth so white?
Plaque - bacterial - biofilm - is invisible to the eye, but can be tinted great and distinguish between early and late biofilm - the particularly dangerous one. Mikołaj agreed to perform a test, in which a sponge with a purple substance was applied to his teeth, after which the biofilm turned the color to the appropriate color - red meaning fresh biofilm, a blue evidence of late biofilm.
After staining the teeth, the hygienist started to thoroughly clean them - and Mikołaj played a role of a biofilm detective and watched the teeth being washed in the mirror, and after a while he himself showed the hygienist where he had to clean the teeth during the procedure.
The next step was teaching teeth cleaning teeth by Mikołaj - of course, still in the mirror, under the supervision of a hygienist, until he cleaned all the teeth.
Of course, it couldn't go without a dental chair!
And it's ready!
After such a colorful experiment, I am guaranteed to take care of the time of washing my teeth for at least some time - and what's more, Mikołaj, as an authority for his younger brother, dealt with this problem for all of them.
At least until the next visit to the dentist's office. Mikołaj is already behind him and is waiting for the next one.
And how do you look at daily tooth hygiene? Habit or fight?
I hope that after you follow the 5 steps to develop habits no healthy changes will be terrible.