Publication:
08.04.2021
| Update:
04.05.2021
Online wedding consultant course - what is it better than in-house?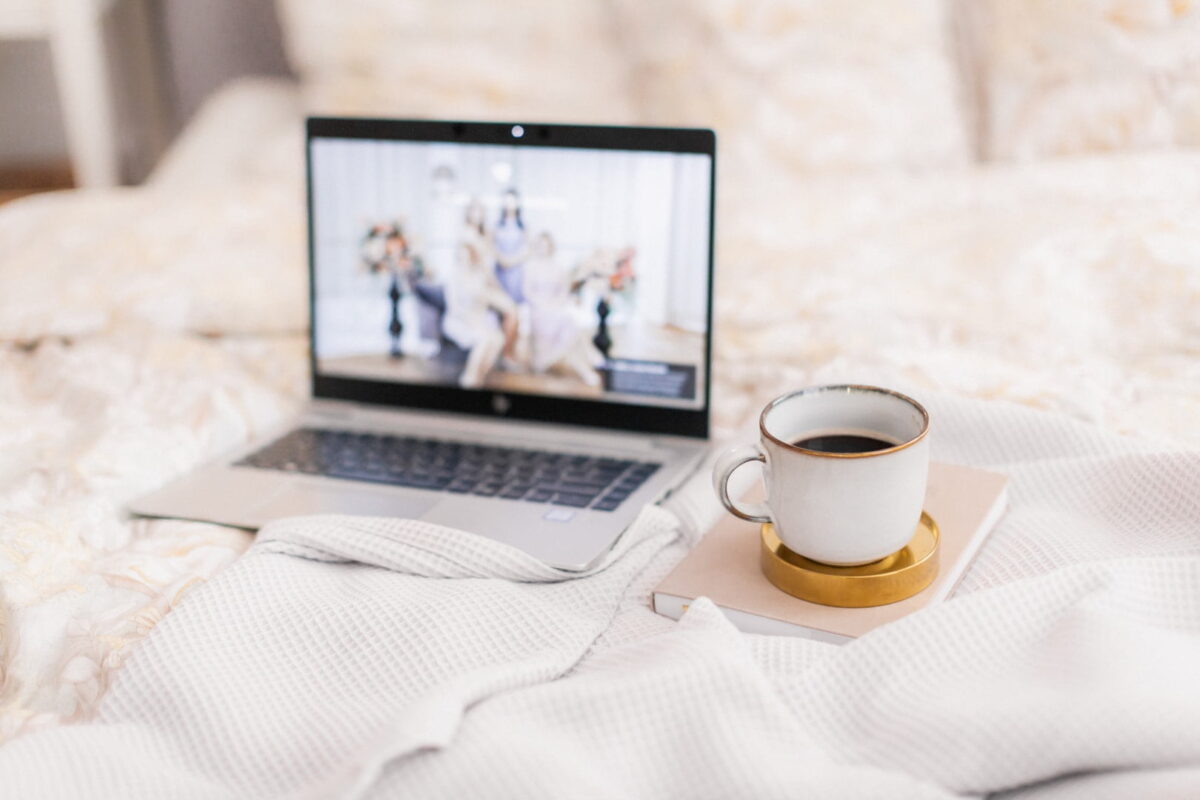 Online or stationary wedding consultant course? Since 2016, I have been running full-time courses attended by almost 500 people not only from all over Poland, but also from Germany, Norway, Greece, Italy and Spain - so to make it even easier for you to learn in Academy of Wedding Studios from 2020 you can take part in the "Expert Wedding Consultant" course also online. What have I prepared for you?
At least once a week I get a message or a phone call asking: which Wedding Consultant Course is better to choose? Online course or face-to-face course? When might an online wedding consultant course be a better option for you?
I always say to all these news: it depends and I try my best to recognize your needs and possibilities.
Because my answer depends on this:
where do you live
Where do you study
where do you work
what do you do in life
what's your character
what your everyday life looks like.
Thanks to this, we can jointly state:
can you take 6 days off and come to the stationary course or do you prefer to save time and money and learn from the comfort of your home?
Do you have difficulties with absorbing knowledge in large portions, but do you prefer to decide for yourself how much time you spend on learning a day?
do you know that at home it will be difficult for you to motivate yourself to learn?
Or maybe you are worried that the Online Course is less knowledgeable and less material than the on-site course?
Nothing could be more wrong! My Online Wedding Consultant Course on the contrary, it takes as much as 185% of the time of the stationary course, so I spend almost twice as much time on each topic as on the stationary course.
Online wedding consultant course - when is it worth it?
1. You live abroad
Especially now, when the coronavirus pandemic is raging almost all over the world, and many flights have been suspended or checks at border crossings have been tightened, hotels have limited access for visitors, an online wedding consultant course may be the best option for you. If you do not want to give up your dreams, especially now, when the situation is so uncertain and you do not know when you will be able to come to the stationary training, it is worth considering this option. You can take the Expert Online Wedding Consultant course from anywhere in the country and at any time.
2. You work full-time
Let's face it - many of us work in places where we don't want to work at all. They don't feel satisfied, they want to change something in their lives. However, they do not want their supervisors to learn that they are training in a different field and plan to start their own business ... Thanks to the access to the e-learning platform with the online wedding consultant course, you can easily watch the material before and after work, painting or eating breakfast. And the boss doesn't need to know about it at all 😉
3. You run the house and look after the children on a daily basis
This is a very important and difficult task. Hats off to all mothers who bravely endure the hardships of life, running the house and taking care of their kids all day long. But they also deserve a chance for development.
So if you want to train to be able to run your business in the future, but you cannot leave your place of residence, because without you the world will collapse (;-)), the online wedding consultant course is for you. You can go through the stages of the course while your children are sleeping or playing quietly (I know, I know, oxymoron! :-)), and certainly when they fall asleep. These are not live lessons, but pre-recorded materials, so you can pause the movie at any time and watch it again as soon as possible. The platform will remember where you left off watching, so when you restart it you can just continue the lesson.
Live, we have videoconferences once a week, which are intentionally scheduled for 20:00.
4. You cannot travel for 4 days
Work 5-6 days a week, sometimes shift work, irregular work, does not allow for a four-day trip to the Tri-City. Nothing is lost - you get access to the course platform for up to six months! During this time, you can watch the entire training as many times as you like, rewinding and pausing whenever you need to.
5. You are an introverted person, you feel insecure in the group
Often during group trainings you think "I would ask a question, but I'm afraid I will fool around", "I have misunderstood it, but I'm probably the only one, I won't ask you"?
During the online course, under each video posted on the platform, there is a place to ask me questions. However, you do not have to worry that you will ask a "stupid question" (remember, there are no such questions!), You will misunderstand something, someone will laugh at you ... The question that you ask under the film can only be seen by you and me. I will answer you anonymously during a videoconference or individually - if required by the specificity of the question, or anonymously during a videoconference with the whole group.
6. You doubt whether you are able to acquire knowledge effectively for 4 days, 8 hours a day
The stationary training is a huge knowledge pill, which of course requires consolidation after returning home - thanks to the textbook and your own notes, you can systematically consolidate the acquired knowledge. On the other hand, the online course allows you complete the lessons at your own pace, stopping the videos to update the exercises in the textbook as you go - during the full-time course it is your homework. Therefore, the greatest advantage of the Wedding Consultant Online Expert Online course is that for 6 months you can return to each lesson to refresh a given topic or dispel doubts whether to create a budget or schedule for the client you already serve.
7. Would you like to meet your mentor in person?
Are you worried that we won't get to know each other in person? Nothing could be more wrong, the same as in the case of the stationary course, you are entitled to 2 hours of individual consultations with mewhich we can take place in my office in Gdynia or at Zoom.
What do you think about online courses? Do you think they are less effective than stationary? Or, on the contrary, are you a fan of them because of the convenience?