Publication:
27.08.2018
| Update:
27.05.2019
How to get dressed for summer work? A blue dress that builds confidence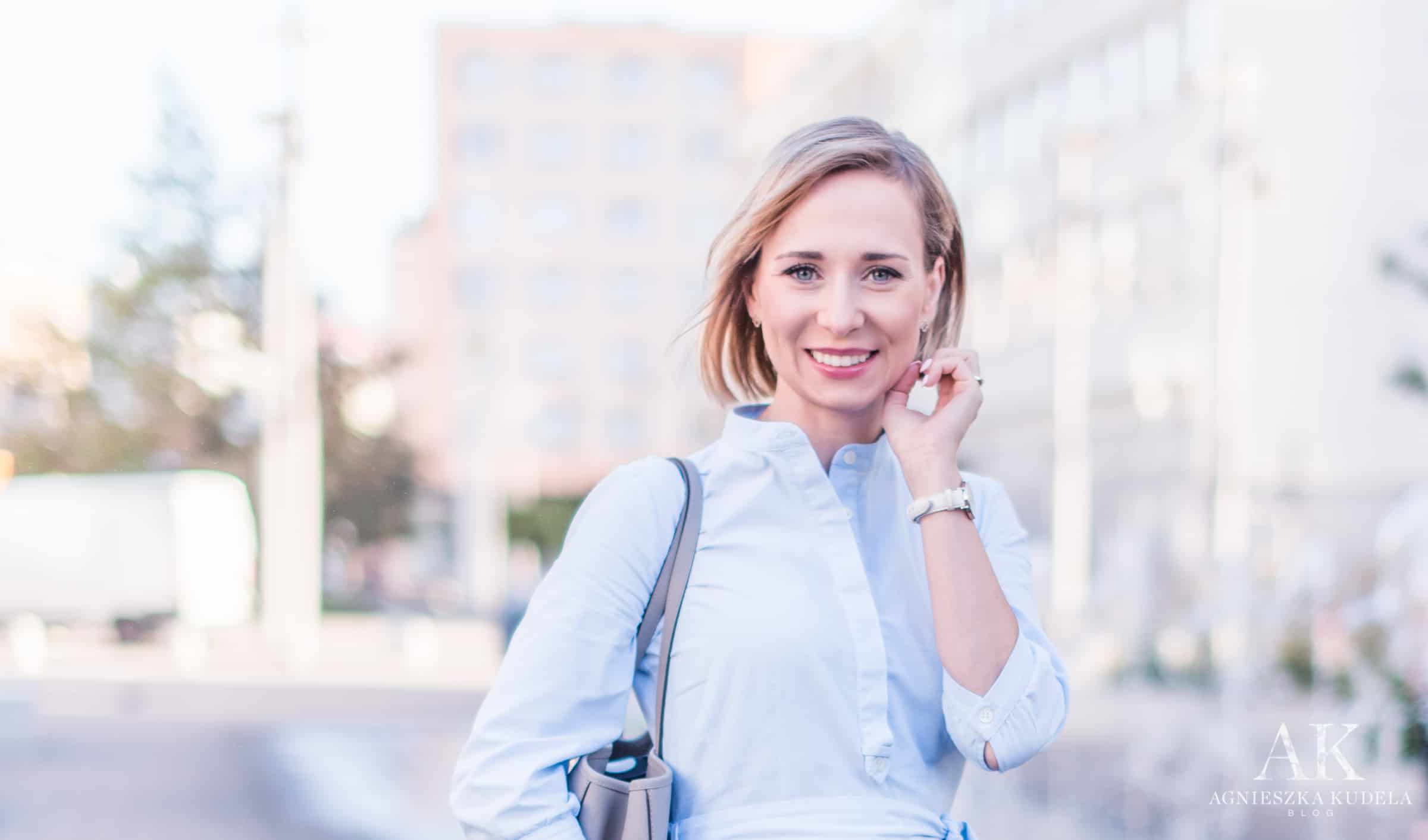 How to dress for work in the summer to feel comfortable and despite the heat make a good impression? A few rules of business formal style and my favorite style for work this summer.
Why is blue worth at work and in business?
Blue color suggests perfectionism, credibility and good communication. Furthermore calms down, that's why it's blue dress that lets you arouse trust. It is not without reason that Aleksander Kwasniewski, on the advice of Jacques Séguéla, a world-class image and political marketing expert, went through (and won) the presidential campaign just in blue shirts.
According to Grażyna Białopiotrowicz, a Polish image creation expert in politics and business, blue is perceived as harmonia i arrangementwhich means that when you wear it, you are associated with high intelligence i charisma.
What work dress?
Do you know that in addition suit and suits are a cloth maker is the third, the most professional and formal clothing in a woman's wardrobe?
What is a wiper?
In short, it's a dress that you the upper part resembles a shirtand the bottom ... it is best if it fits your figure, giving it an hourglass shape, which is very helpful with a belt tied at the waist and a safe and elegant bottom of the dress, for example made of a semicircle, which will not be too tight for business meeting, nor too fancy what could be a bottom made of a circle of stiff material.
Because it is a business dress, you have to take care of her length, which it should not be shorter than 6 cm or longer than 6 cm from your knees.
Blue shirt dress ...
... sewn from high quality material, preferably as little as possible, will not only allow you look and feel good in any business situation, but after work, all you have to do is throw off bigger jewelry and change shoes to comfortable sneakers and get looser, sporty look.
if you are Young mother, such a skirt will help you not only to hide your post-pregnancy tummy, but also to feed your baby or ... to use the breast pump comfortably if you pump milk at work or at a larger exit without a baby. Perfect for baptisms.
Work shoes
It has been accepted that they are acceptable in a formal, business style only full shoeswhile for skirts and dresses 5-8 full heels with centimeter-long heels, ideally made of smooth and matte full-grain leather, look best. Without decorations, pebbles or feathers.
you prefer flat shoes? They are perfect for a woman's suit. As the aforementioned Grażyna Białopiotrowicz advises, when combining a dress or a skirt with flat shoes in business, we send the message "I'm three, three and a half" so I book such a look for loose days in the office and early and late hours of wedding coordination - but the Wedding Planner's outfit at the wedding this is a topic for a separate material.
Tone in tone styles
The royal family loves them, so you can go ahead and love them too! No more problems with choosing shoes for creation. When I have to create one quickly and don't have time to experiment, I reach for it dress-colored or skirt-colored shoes. It is a guarantee of the success of almost every stylization.
Although we have black and possibly beige (so-called "nude") shoes in mind of classic business styling shoes, this season I loved tones in tone so muchthat I allowed myself to buy blue, classic, smooth high heels. Thanks to the fact that the colors prevail in my wardrobe: white, gray, pink and blue, with three pairs of pins, I can build tone-in-tone styles for various occasions. So even in very formal dress code shoes can have a different color than black and beige, provided that they are consistent with the whole and do not disturb the whole impression of our person.
My suggestion for summer, business stylization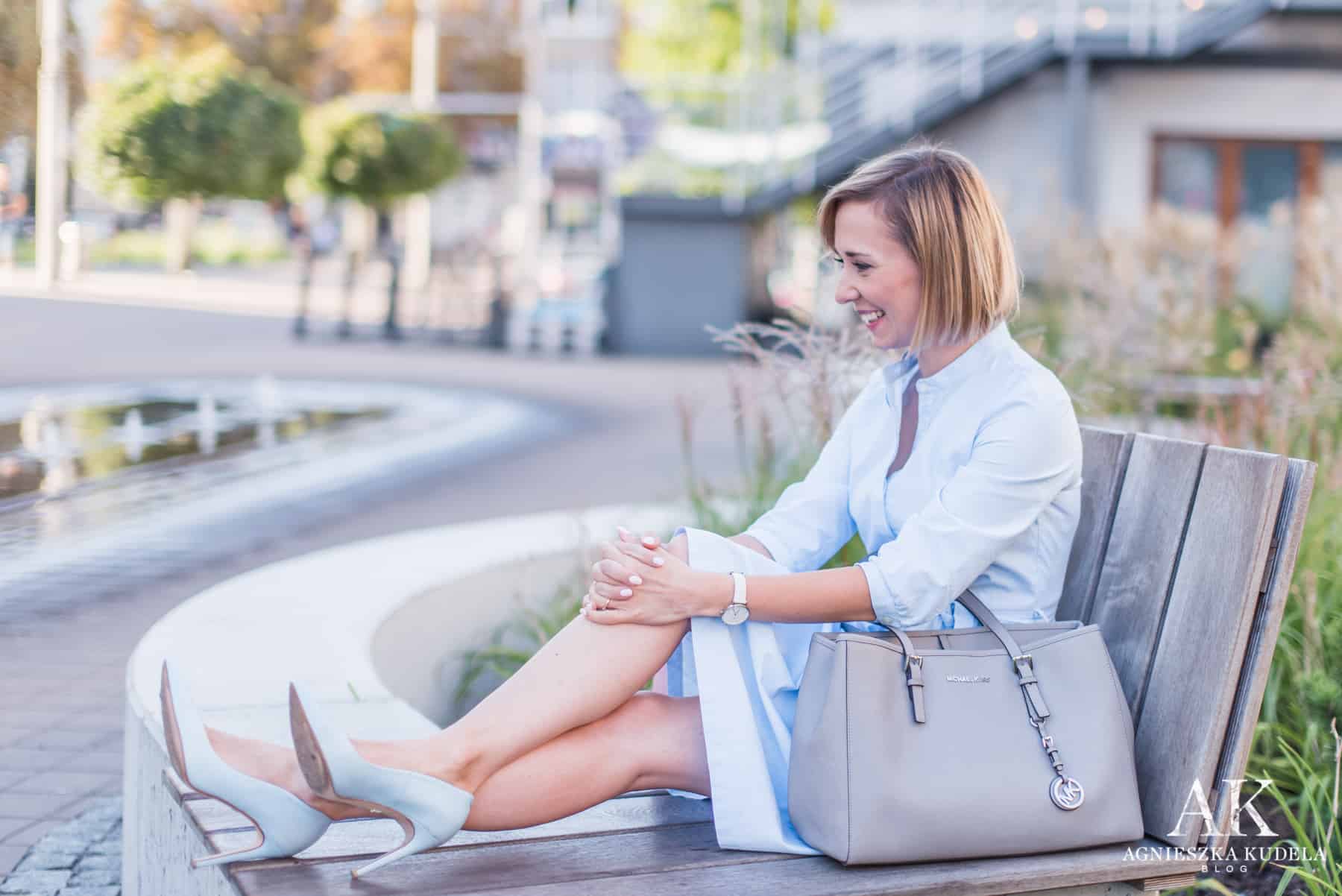 Jewelry and accessories
Blue styling tone-to-tone with a shirt top with a shirt top, in which the traditional collar was replaced with a stand-up collar, I broke my gray laptop bag - this is my basic and so far the only purse in which I carry a computer with me every day. Over 2 years ago I got it from Wojtek as a gift and I have to admit that it was a very good investment - the bag is very roomy, solid, it accompanies me every day, I also take it with me for trips and weddings, and it is still flawless, giving me confidence.
earrings I chose small and openwork that emphasize mine delicate nature and more expressive braceletthat highlights mine definitely. I completed everything classic watch with a simple, quite masculine form, which suits a person who is active and willing to take on difficult challenges.
Never in business I don't mix silver with gold, which emphasizes my concern for details and applies to all clothing, from shoes, to clothing accessories such as a zipper and a buckle, to a purse. The only exception is my engagement ring, which is made of white and yellow gold, but it is very simple and unobtrusive, and its sentimental value is invaluable to me.
In this outfit, I broke one rule of business attire - I didn't put it on tights. The most rigid rules of this game say that tights must be there, many recent publications allow for exceptions, but I am lucky that I shape my image in our company. Therefore, fortunately or unfortunately, on hot days, when it's + 30'C outside the window and I work in the office, I choose greater comfort and efficiency, and even when I meet clients on these days, full shoes are enough for me, and I do not wear tights . But if I was going that day for the wedding of our clientsI would definitely wear my favorite matt 8 DEN tights. On cooler days, I put on slightly thicker reinforced tights 15 DEN, in which I have a calm head, because my eyes do not go.
Takeaway
I also try to carry with me thermos mug with healthy tea or herbs, because without him I often forgot to drink anything during the day, which unfortunately strongly affected my health. In cafes, when i buy take-out coffee, please, pour it into my cup so that whenever I do not have to use disposable packaging, and in some cafes I get a small discount for this pro-ecological approach - it's very nice that they do not treat me as an eco-freak, but they additionally reward me.
Dress: Aglaia from Marie Zelie
I have a 20% discount code for you
for all the great shopping at the Marie Zelie store
with code AGNIESZKA20 valid only until 3 September 2018
Shoes: Kazar - 40% discount
Jewelry: Lilou
Watch: Daniel Wellington
And what is your proven work style? Or maybe you are just building your wardrobe, which is still you
stress rather than add confidence?