Publikacja:
27.06.2018
| Aktualizacja:
30.11.2023
Cybex Maira Tie and Click baby carrier – test
We invited the Cybex Maira baby carrier to our holiday – was it comfortable for both my child and me? Which version of the ergonomic carrier – Click or Tie – turned out to be better?
June 22 is the beginning of astronomical summer – long evenings, walks, mountain hikes and closer and further trips, as well as air travels are ahead of us. Being the parents of an infant, we do not have to give them up at all – all you need is proper preparation! One of the useful accessories is a suitable baby carrier. We took the Cybex Maira baby carrier with us to Italy.
After Santa, I thought that I would no longer be able to carry my children in a sling or a sling due to problems with the spine during pregnancy, which came back when I was carrying Santa in a sling for too long. However, when we were planning our trip to Italy and I already knew that I would have to keep the child at the airport and during trips to places where we do not know a wheelchair, I decided to look for something suitable and now I know that carrying a child for hours can not hurt!
If you follow my blog from the beginning, you certainly know that we've already tried woven, ring, elastic, Tula and mei-tai. You can read our story here. Of all these baby carriers, we liked mei-tai the most. What prompted us to keep looking? Our trip to Italy this year and the fact that mei-tai is not as fast and easy to put on and take off as it is convenient when traveling by plane.
We have to unfasten or fasten the child many times. This happened to us several times at the airport. First, when checking in, when we checked in the trolley for the main luggage, I fastened Maks to the baby carrier in order to unfasten it in a few minutes during the security check, X-ray the carrier, go through the gate, fasten the baby in the carrier again, to unfasten it in the room after the inspection. change, then fasten it and take it off again on the plane. After landing, the whole process looks similar – putting on a sling in a tight plane, a photo to put Maks in the stroller … If I had a mei-tai with me, which has a very long binding material, I would wipe the airport floor with it every time, and if it rained additionally he would be all wet …
It was extremely important for me to fasten as quickly as possible. We compared the ones available on the market and decided to try the ones from Cybex: Cybex Maira Tie and Cybex Maira Click.
Who is the Cybex Maira baby carrier for?
The Cybex Maira baby carrier – whether in the Tie or Click version, is suitable for a newborn from the first days of life up to a small child aged 2!
The manufacturer states that the carrier will be suitable for children weighing from 3,5 to 15 kilograms.
One carrier for a newborn and 2 years old – how is this possible?
The Cybex Maira baby carrier was used by Maksiu, a few months old, as well as our over three-year-old Mikołaj, thanks to panel width and height adjustmenton which we seat our child. We adjust its size to the size of the baby – both the width of the panel, so that it is from the elbow to the elbow, and the height of the panel, are adjusted with Velcro, and the appropriate size can be selected using prints-prompts. Thanks to this adjustment, the carrier will last for a really long time!
The minimum width of the panel: 16 cm
Maximum panel width: 42 cm
Although we bought the carrier with Maks in mind, Mikołaj likes it very much. Sometimes he himself asks to be taken to the baby carrier, and since he is still in the upper weight limit for the Cybex Maira baby carrier, we do it willingly – Mikołajek likes to cuddle up to his mother in this way, and I also appreciate this bond and such close contact . Due to the fact that we wear it occasionally, we do not mind that the panel is not perfect from the knee to the elbow, after all, it is already 3,5 years old, because firstly I wear it occasionally, and secondly it says that it is very convenient. Usually, when he asks if he is wearing Maks, we can put him in a pram so that he can take the place of his younger brother, and we have a solution for that – I take one of the boys, the other Wojtek and together we can conquer the world!
The sling is a great alternative for the pram for us: often during our several hours of walking through the Roman streets after some time, Maks got bored of watching the world from the pram, so every time we had a carrier in the pram basket to transfer the son to the carrier and hug at any time.
Maira Cybex baby carriers are also for people who they don't like and are afraid to wear a baby in a sling, fearing that the baby will be positioned incorrectly. Most importantly, the Cybex Maira slings have been constructed so that eliminate the most common potential parental mistakes. Thanks to this, the position of the child in the carrier (with widely spaced legs, supporting the proper development of the hips) is correct, and the shape of the spine remains naturally rounded. All this meant that Cybex slings were IHDI certified (International Hip Dysplasia Institute).
So far, I have recommended you the baby carriers only from the moment the baby is sitting, and at an earlier stage – scarves. But Paweł Zawitkowski – an authority in the field of children's rehabilitation confirmed that Cybex Maira baby carriers can carry babies from birth – this is an extremely important recommendation for me and I certainly trust her.
carrying
In Cybex Maira baby carriers, we can carry a baby in position on the front, side or back – depending on how we like and how it is most convenient for us.
At the moment, I prefer to carry my sons in the front, where we are close, we can maintain visual and verbal contact. In this position, I also happened to slightly loosen the carrier and feed Maks – there are voices that it is inadvisable to feed the baby in a sling, because in the event of choking, we lose time to untangle the baby from the scarf, and I just need to unfasten one buckle to take the baby out, so I see no obstacles.
Waist belt
In both models tested by us, the carrier is fastened at the waist with an adjustable buckle with an additional security that prevents it from being unfastened automatically. Fastening and unfastening the belt is really easy, and the unnecessary length of the belts does not dangle at the body – there are special elastic bands at the belt, under which we can put its ends too long.
The waist belt is massive, which makes it extremely comfortable, I could easily wear throughout the day both Maks and several kilograms Santa.
Cybex Maira Tie or Click – which carrier is better?
After uploading our holiday photos on Instagram I get a lot of questions from you about which carrier to choose. And then I ask you: who will carry your child first of all? One parent or both?
The only difference between Cybex Maira Tie and Cybex Maira Click is the other tying shoulder straps.
As the name suggests, in the model Cybex Maira Tie straps are tied at the back and under the baby's feet and bottom. In option Click straps have been replaced with fastened buckles – similar to those in the waist, only smaller.
If your toddler will wear one parent, I recommend Maira Click – you will adjust the length of all straps perfectly for yourself and your child and you will get very quick putting on and taking off the carrier
If you want to wear both, each adjustment of three or four buckles (when wearing shoulder straps in parallel) can be troublesome for you, so choose Maira Tie – you can quickly and easily adjust the hip belt to each other, and tie the shoulder straps as conveniently as you like.
If I had to choose one carrier, in my situation I would choose the Maira Click carrier.
Firstly, because we had to travel by plane and a lot of trips, I did not want to sweep the airport pavement or the pavement with long strips every time. I knew that – as I mentioned above – I had to put Maks in and out of the carrier many times while on vacation, so I needed as much help as possible in this task. Thanks to the straps fastened with buckles, I wasted less time fastening and unfastening the child, and in addition I do it all by myself – I easily reach behind my back to fasten or unfasten the buckles.
Secondly, due to the fact that I mainly wear Maks, the adjustable straps are adapted to me. On the other hand, if both parents carry a baby in a sling, the Tie model is definitely more suitable with bindings, thanks to which you can easily adjust the straps to Mom or Dad. All you have to do is adjust one buckle, not three or four.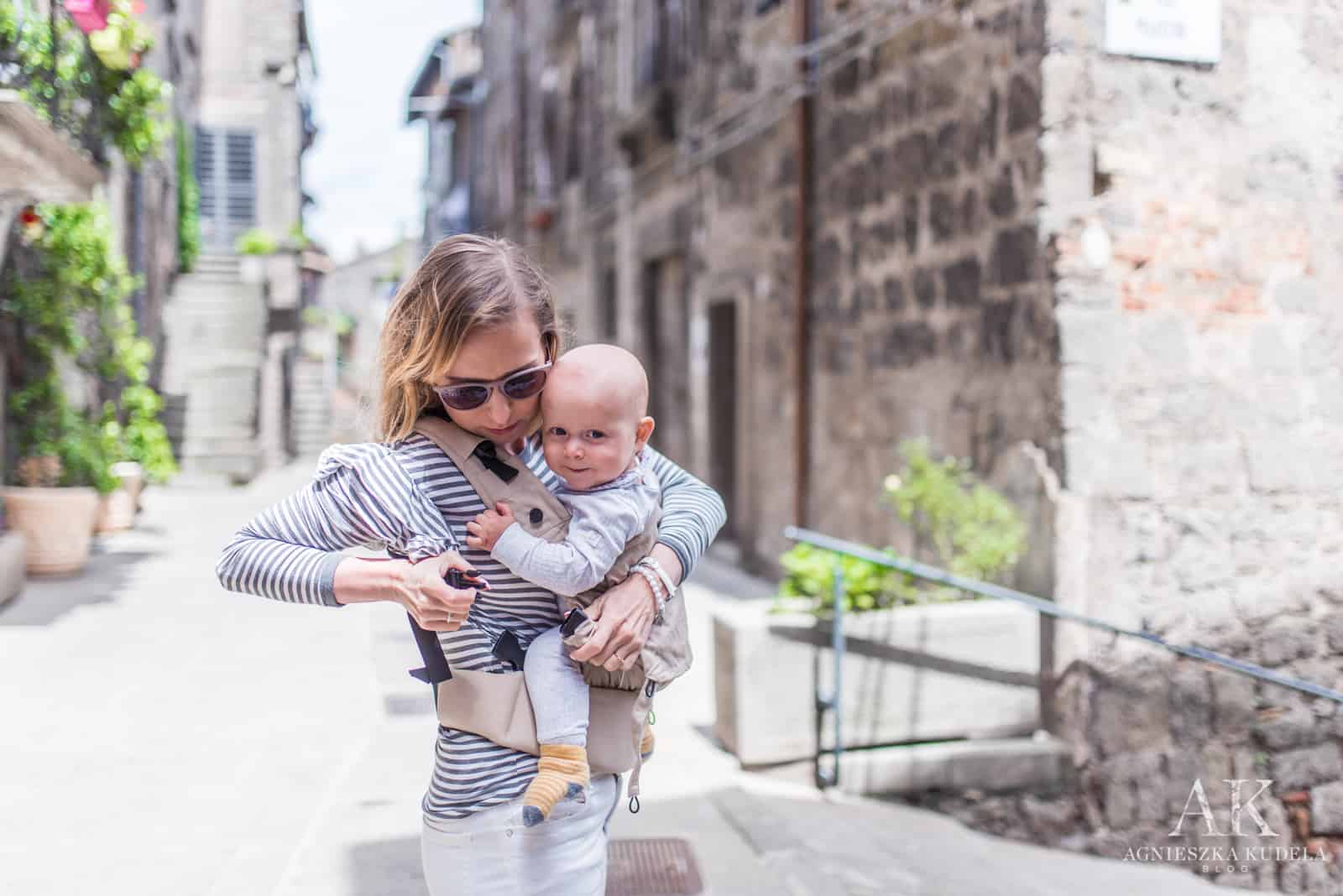 In both models, the shoulder straps can be worn crossed or parallel – depending on how convenient for us. If we put them on in parallel, fasten them together with an additional strap for added convenience. Personally, I always put them crosswise – it's one buckle less to fasten, and I like quick solutions.
stuff
Cybex Maira they are not rigid slings – are made of a shawl, cotton, organic, two-layer material, thanks to which it is breathable and neither child nor I sweat in it, as is the case with traditional scarves, and is a huge downside of elastic scarves. A sling is over five meters of material that a parent is tied to, and here? I wore Maks in the hot Roman sun, even at over thirty degrees, and I loved it. I couldn't handle it in Poland in May.
The soft material of the sling also allows you to maintain the natural curvature of the baby's spine mentioned above.
Baby carriers can be machine washed at 30 degrees, which is a great help!
An additional function of the carrier is … teether : )
Headrest / hood
In both models it is located adjustable headrestthat can be easily expanded, rolled up and stowed away. It performs many functions – when the child is asleep, the rolled headrest, attached to special hooks, supports the baby's head, while the unfolded headrest provides excellent protection against the sun.
colors
Cybex Maira has a minimalist, classic design just the way we like it. It comes in simple colors – beige, black, gray and navy blue (Denim).
I'm not hiding that We've adapted the colors of our slings to the clothes we wear – the Click model we chose the beige, because I mainly wear bright colors, and the Tie – black, for Wojtek. However, I must admit that – although it might seem otherwise – this beige carrier was easier to keep clean than the black one, which "clung to" our clothes or the baby's clothes.
The light color option worked better for us also because of the Italian sun – the light color reflected the light better.
Price
Price of the Cybex Maira carrier – regardless of whether it's the Cybex Maira Tie or Cybex Maira Click to 599 PLN and you can buy them here.
It may seem like a lot, but really Cybex Maira is 2 products in one – shawl to wear a newborn baby and an infant who is not sitting alone yet yoke for a child up to about two years of age. Looking at it this way is a very good investment.
The Cybex Maira carrier works with us for a trip, for a walk, to the airport, for shopping and in many other situations – at the moment I cannot imagine a more comfortable and safe carrier for my children.
And what is the most important for you in choosing a sling? And do you even like to wear?
Do you want to be up to date with me? Join me on Facebook i Instagram.