Publication:
23.07.2018
| Update:
14.05.2021
Easywalker Buggy XS
Easywalker Buggy XS is the second stroller that we took with us for a month to Rome - a stroller with a booth in a pattern with Mickey Mouse surprised us. Positive or negative?
Disney by Easywalker Buggy XS - a featherweight stroller - only 6 kg
The Disney by Easywalker Buggy XS was the second pushchair - apart from MINI by Easywalker Buggy - which we took with us on a month long vacation. We knew that one stroller for two small children is a bad idea, and I was absolutely captivated by a video on Instagram, in which a man pulls a convertible from a tiny trunk (on vacation we usually rent a Fiat 500 convertible for himself) and unfolds this inconspicuous stroller in flight into a beautiful stroller. That's when I decided that Disney by Easywalker Buggy XS will be the second stroller that we will take on our adventure. And I saw these booths with patterns in Mickey Mouse and Minnie - I didn't have to wonder any longer! Just see how beautiful it is! And that's just one of its advantages.
Easywalker Buggy XS is a stroller designed for children up to 15 kg.
Frame and wheels
The frame is made of ultra-light aluminum - the entire trolley weighs only 6 kg! The wheels are large and fantastically lined - the trolley rolls lightly and easily, and it is extremely maneuverable - without a doubt the most maneuverable stroller I've ever had!! Really - it can be easily guided with one hand, even on uneven pavements, bumpy roads, laden with shopping. He's a great conqueror.
With umbrellas, it is sometimes a problem to carry the stroller up the stairs when the brake protrudes more than the wheels. And here? The situation is opposite - the rear wheels of the stroller are more protruding than the brake and quite large, thanks to which the stroller is very easily pulled up and down the stairs. Easywalker Buggy XS is great for stairs!
Depreciation
You immediately feel that the suspension of the stroller is cushioned on all four wheels and quite soft. The stroller has worked well on both Tuscan lanes and Roman cat heads.
holder
The handle has no height adjustment, but its height will probably be suitable for a person of any height - it is as much as 105 cm, and it is also comfortable for a short person like me. It is covered with soft foam, which gives even more comfort to driving the stroller.
Brake
The brake is located on the rear axle of the stroller and it is my favorite type of brake - it is easily turned on and off - always by pressing with your foot, so it works even with sandals or flip-flops.
Shopping basket
For this type of trolley, and even looking at 2-in-1 trolleys, the shopping basket is surprisingly roomy, with a load capacity of up to 5 kg. I was surprised to find two slings, water, a diaper bag, a changing pad and a blanket. Although the basket is not closed, it is well thought out - nothing falls out of it.
Shed
After enlarging quite large sizes, so it perfectly protects against the sun.
It has peek-a-boo window fastened with one small Velcro, so we can preview the sleeping Toddler, and removing the window will not make us noise.
Upholstery the stroller is made of waterproof and high-quality material that feels like cotton on the seat - when I unfolded the stroller for the first time, I was afraid that it would get very dirty, but we have been using the stroller for several months and now I decided to wash it and that's it also local. The covers for the straps are removable and I have washed them twice already.
seat
Quite high, it folds almost flat and has smooth adjustment - on the belt - and I admit - it's not my favorite adjustment model, because I need both hands to change the position of the backrest. And what was the only downside of this stroller to me? The fact that the backrest does not rise to the completely vertical position, but is raised to the maximum, is still slightly tilted back.
Initially, I thought it was a big minus, but I noticed that Maks, who likes to lean out of the stroller and look around, just ... leans out and looks around, even when there is no support for his back in every position. This way, when he wants to resist, he resists, and if not - grabs the headband and leans out. Safety is ensured by five-point belts with a convenient option of unfastening the shoulder straps.
The trolley seat folds flat, which is important for many parents and children who are not fans of bucket seats or strollers only with reclining backrests. For us it is also a big plus, Maks loves to sleep like this, and when I loosen his belts, he also likes to turn to the side, as usual in a cot (or our bed).
bail
In many prams, you have to pay extra for this accessory - here the headband is included in the price, which makes me very happy, because Maksiu leans out of the pushchair and grabs the headband and watches the surroundings.
This is probably my proprietary solution, but the detached headband can be put away on the folded hood - it does not take up unnecessary space in the basket, and it fits perfectly and does not fall off.
Footrest
The footrest of the stroller is adjustable, it can be flat - ideal for babies or bent down, allowing you to rest your feet on the footrest built into the frame of the stroller - for larger children.
Color
Disney by Easywalker Buggy XS has beautiful upholstery! See for yourself: the version for boys - Mickey Ornament, for girls - Minnie Ornament and the third, more universal - Mickey Diamond. I also come in two beautiful colors without the image of Mickey Mouse: powder pink Monaco Apero and gray Berlin Breakfast.
Folding and size after folding
The unfolded Disney by Easywalker Buggy XS stroller has the dimensions 44 x 76 x 105 cm.
When folded, the stroller takes up very little space - it measures only 44 x 52 x 23 cm.
As easily as one handed Easywalker Buggy XS with one hand, similar it can be folded down with one hand. Even with a baby on my hip, I can approach the car and push the button with one hand, fold the stroller, grab the handle and place it in the trunk. When unfolding for a moment, we need a second hand - to release the security before unfolding it yourself. Folded Buggy XS takes up much less space than any umbrellaor even when I have the entire trunk of my city Mini loaded with shopping - a folded stroller fits behind the seat!
Weight
Feather! The whole cart weighs only 6 kg, I can easily lift it with one hand.
Accessories
We get in the set headband and raincoverand. We also have a bag to transport the trolley (very useful when traveling by plane, because it protects us from damage) and organizer, in which we carry drinks and snacks or sunglasses, spare teats and other wonders during summer walks. They can be bought separately.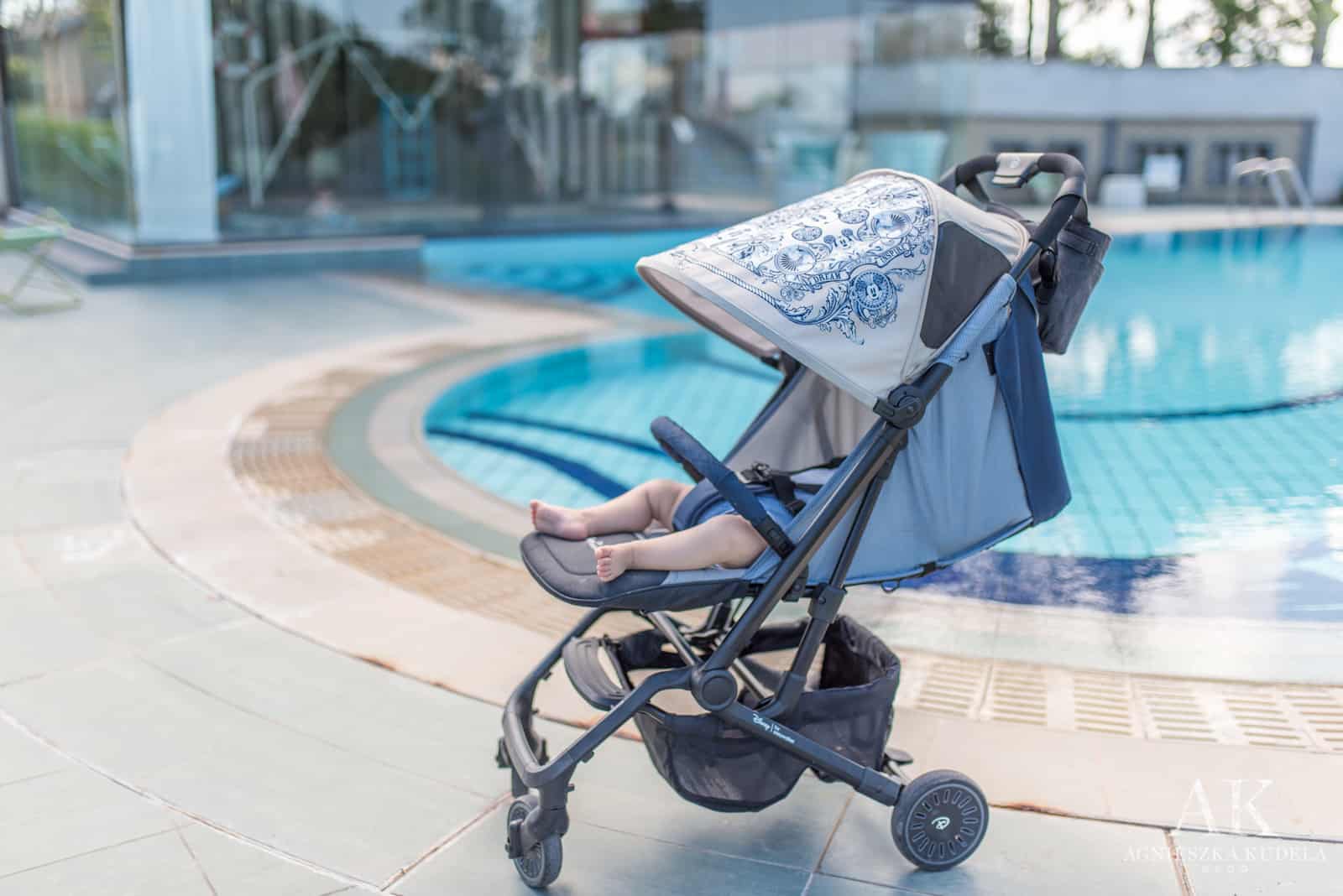 Price
The price of the Easywalker Buggy XS starts around PLN 1080. It is not the cheapest one, but if you are looking for a light stroller, small when folded, very comfortable to drive - even with one hand, and all this with great comfort for a child, I do not know the other one. Ideally suited to a city car, but also to more demanding surfaces. It is perfect for holidays and for the plane.
Summary of Easywalker Buggy XS
| | |
| --- | --- |
| Weight | 6 kg. |
| Folded dimensions | 44 x 52 x 23 cm |
| Dimensions when unfolded | 44 x 76 x 105 cm |
| Shopping basket | 5 kg. |
| Maximum child's weight | 15 kg. |
If it were the first stroller I tested, I would undoubtedly consider it ideal, but after testing the Easywalker Buggy umbrellas, once I know that strollers can have car seat adapters, I am smashed - if only Easywaler Buggy XS had this option and an adjustable seat gradually with the option of vertical positioning, it would be an ideal stroller.
And I still have a great fondness for a pram Easywalker Buggy and I can't decide which pram I like more. Until a certain age, when car seat adapters are so useful, the Buggy was my favorite stroller, despite being harder to drive, but now that I use them less and less, the Buggy XS is more with me.
And if we go for a walk with two children on two prams and I can choose which stroller to drive, I choose ... XS. Its ease of handling is clearly felt compared to umbrellas with up to eight smaller wheels, which are more resistive and cannot be driven with one hand. I've already done it several hundred kilometers, and it still runs the same lightly, which surprised me a lot. It is also irreplaceable that by leading it with one hand, I can simultaneously grab the other child's hand, answer the phone or eat ice cream or drink water without stopping. Mikrusi size after folding and unfolding with one hand, as well as a huge basket for holiday necessities or shopping, make it one of a kind.
And what features must your perfect stroller meet?