Publication:
14.01.2020
| Update:
10.03.2020
Bedroom console
The bedroom console finally arrived in our house! Home decorating is a process that matures with us. I love these little changes, and each of them makes me our home is becoming more and more. Today I wanted to invite you to the next installment of our bedroom, which I supplemented with a beautiful white console To the bedroom.
Just 3 years ago, in our house, you would not see a single frame with a photo anywhere in our house, and today it is my favorite way to decorate the interior. There is only one empty wall left in our bedroom, and I knew that our family history would be its most beautiful decoration. I still missed a table on which I could keep scented candles and small decorations, arrange the blanket after folding and put away the books I was reading - and here it appeared - a bedroom console.
Console in the bedroom
The bedroom console turned out perfect implementation of the idea for a tablethat could complement and warm up our bedroom. When I was looking for the bedroom console, I knew I was dreaming of white, like that with sides with crossed boardsso that arranged books or knick knacks do not fall off it, one with shelves on which I will be able to put blankets and my beloved white porcelain in blue patterns. In addition, these little crossed boards bring me back the seaside interior of the New York neighborhood - the Hamptons, so to conquer this seaside, unique atmosphere, I supplemented it with characteristic porcelain with blue patterns.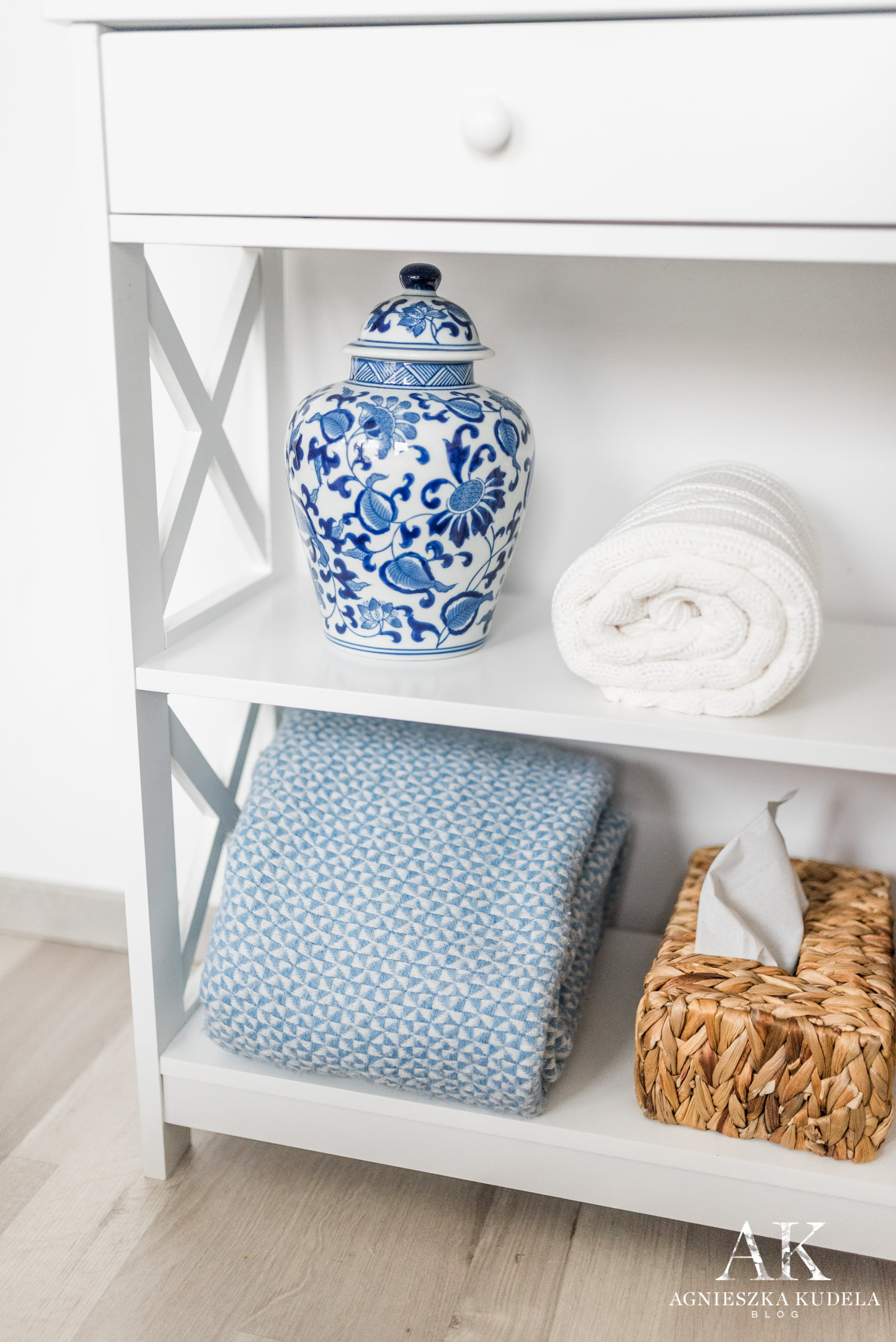 I left some space around the bedroom console Lantern, which on summer and winter evenings will brighten and warm our space with the heat of flames. I chose ones made of natural materials, among which I have been relaxing the most recently.
I love how pictures in white frames and the console completed our bedroom.
I love waking up and the first thing I look at our photo gallery with the most beautiful moments of our lives.
I store our photo albums from the console drawer in the bedroom. I keep it on the counter garden in a jar - thanks from my Graduates Course for Wedding Planner.
And in the evening I put scented candles on the console table.
I love such small and big changes. And how do you like our new corner with the console in the bedroom?
The post featured:
I also recommend you the post in which it is ours Ikea bookcase in the bedroom